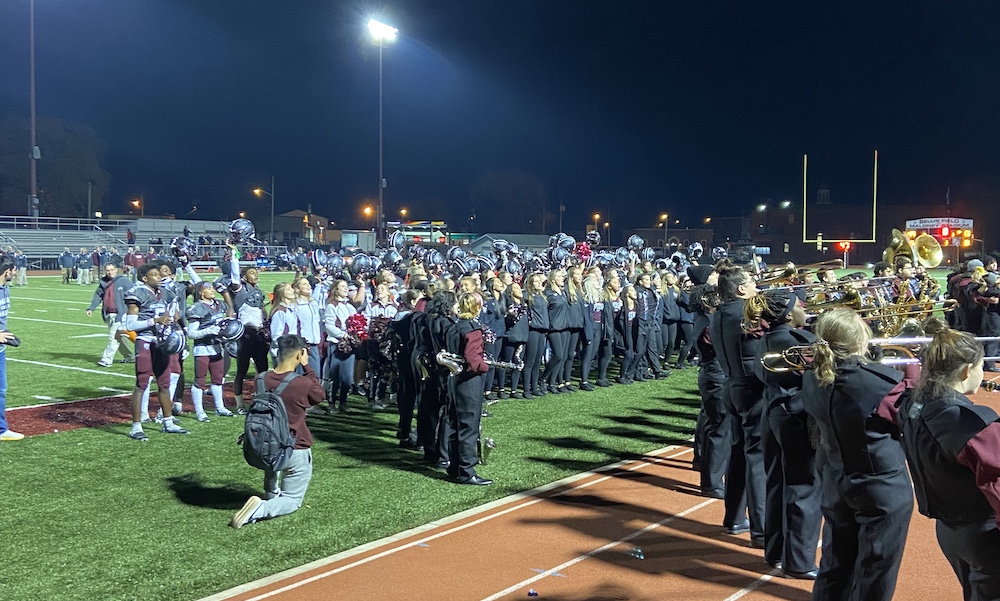 Phillipsburg football had their first state playoff game against Elizabeth and it was nothing less than a blowout.
Elizabeth had the ball first. That did not last long when they tried to punt and Pburg's defense blocked the punt giving them the ball. Shortly after, Sophomore Matt Scerbo, who has had a very impressive season, caught a ball from sophomore Jett Genovese to get Phillipsburg up early 7-0.
The minutemen of Elizabeth got the ball back. They could not handle the defensive pressure that Phillipsburg was dealing. Junior Kevin Burgess got an interception and got the Sateliners the ball back. They marched down the field and gave Senior Xavier Moore the ball for a running TD.
The score was 14-0 after the first and Pburg had control the whole game. Junior Caleb Rivera makes the score 21-0 at the start of the second. Lots of penalties and good defense from both teams kept the score for most of the second until Junior Kevin Burgess caught an absolutely beautiful TD thrown by Jett Genovese to make the score 28-0. There was little time left on the clock, but Pburg was able to get a fumble recovery on the kickoff. Then Senior Isaiah Jackson made the score 35-0 with a 20 yard catch. This ended the half.
Phillipsburg obviously had the huge advantage heading out of the first half. This is not surprising because of the amazing receivers and defenders that Pburg has.
The second half was slower, scoring wise, but was still eventful. Senior Xavier Moore ran the ball 46 yards into the end zone to make the score 42-0. The Stateliners then started to put the backups in. Elizabeth then put their first points on the board with a six-yard run to make the score 42-6.
Going into the fourth quarter, Elizabeth had an amazing 72-yard pass to make the score 42-13. To end the game, senior Jayson Garcia ran 14 yards for the final touchdown to make the score 49-13.
It is not a surprise that this game was not closer because Phillipsburg have shown that they have been a dominant force the whole entire season since they haven't lost a single game. Elizabeth, on the other hand has been struggling this season. Even though Juniors John Wargo and Cameron Bohal, two key players on the team, were not playing, the Stateliners are still very good.
Phillipsburg advanced into the second round of the playoffs and I will not be surprised if they go far. On offense, sophomore QB Jett Genovese has so much trust for his receivers Kevin Burgess, Isaiah Jackson, and Matt Scerbo. It is surprising because they have been playing together for a short time. Also the Stateliners have running backs Xavier Moore, Caleb Rivera, and John Wargo that have been very good this season.
On the defensive side, Phillipsburg has many key players like Hunter Cleaver, Cameron Bohal, Patrick Day, Liam Slack, and many others that just make this defense unstoppable. Teams have struggled with both running and passing against this team. Overall, I see a bright future for Phillipsburg
Final Score: Phillipsburg 49 – Elizabeth 13