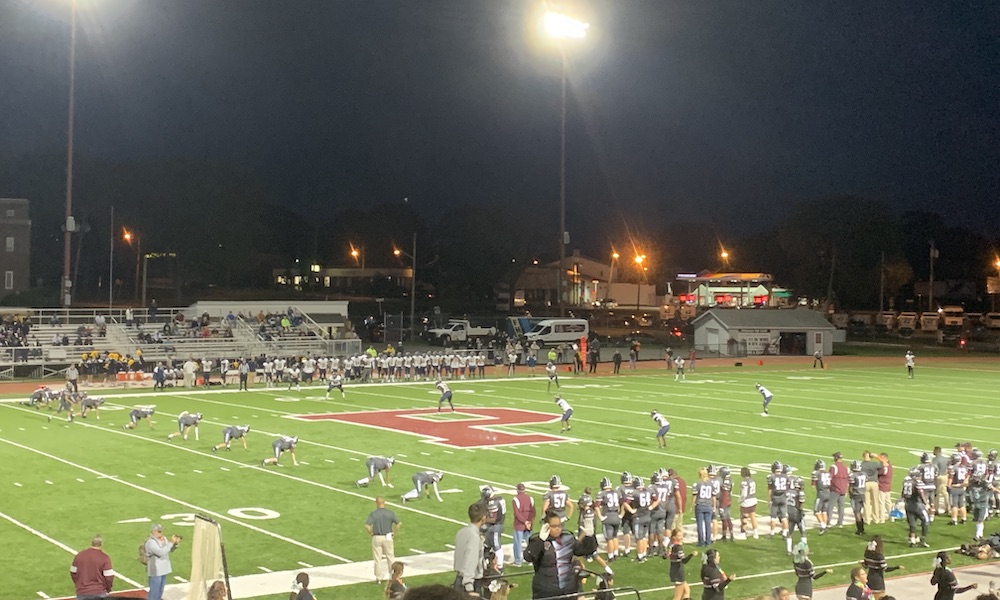 Phillipsburg went into Friday night's game with a 1-2 record. They battled Franklin and showcased both their offensive and defensive abilities.
Hundreds of future Stateliners attended Friday's Youth Night. Both cheerleaders and football players from Phillipsburg's various districts welcomed the Liners. As the Liners entered the field, they were greeted by these young athletes.
Phillipsburg started the night off strong, putting two points on the board in the first two minutes of the game. P'Burg's senior Stephen Gural recovered the ball after it was snapped over the punter's head for a safety.
Shortly after, Rai'quan Dixon ran the ball 51 yards to put the Stateliners in scoring position. Dixon then carried the ball three yards for the Liner's first touchdown of the night. After D'onofrio's extra point, the Liners led 9-0.
In the second quarter, Gifton Friday-Johnson recovered a fumble in the end zone to put the Liners up 16-0, after D'onofrio's extra point. Following a bad snap on the punt, Xavier Moore put more points on the board for the Liners. At halftime, the Liners were up 23-0.
A few seconds into the third quarter, Stephen Gural recovered a fumble, leading to a 22-yard touchdown pass from quarterback Tristen Canzano to Buster Penrose. This put P'Burg up 30-0. A blocked punt by Connor Hille led to a one-yard quarterback sneak by Tristen Canzano. At the end of the third quarter, Phillipsburg began to mercy rule Franklin, with a score of 37-0.
In the final quarter, freshman quarterback Jett Genevese scored Phillipsburg's final touchdown. After D'onofrio's extra point, the Liners dominated Franklin 44-0.
Overall, Phillipsburg had some impressive numbers on Friday's game. The Stateliners had 11 first downs and 237 yards total offense. Against Franklin, Phillipsburg has been victorious for eight straight wins. Friday night's game leaves P'Burg 2-2 this season and Franklin 0-4.