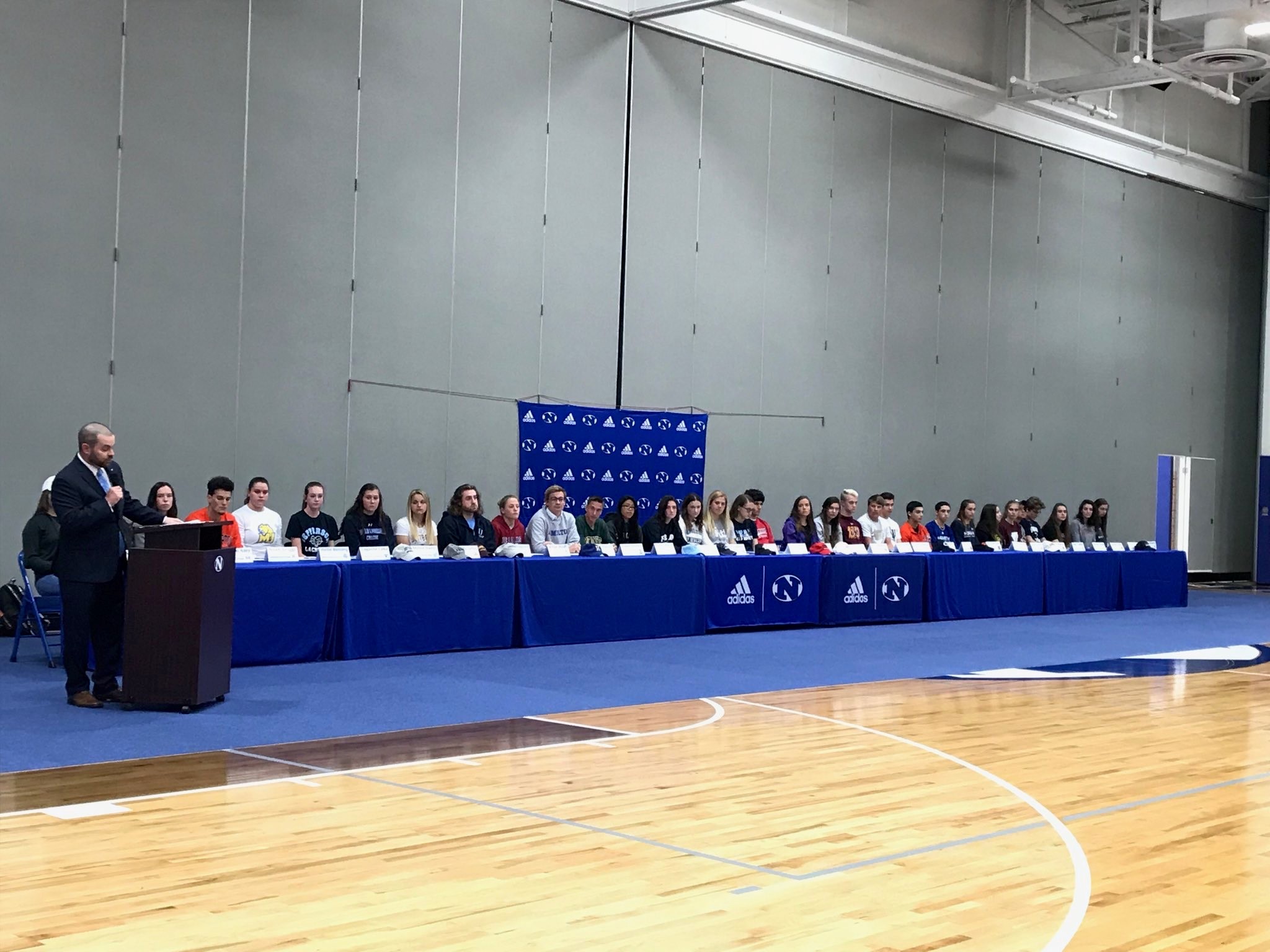 It was a day to remember at Nazareth High School as 34 student-athletes came together for a Signing Day Ceremony. Sixteen Sports were represented with some athletes staying close to home while others chose a further distance as their college choice. Today's ceremony took place in Raymond J. Nunamaker Gymnasium.
Five students will continue their education in Cross Country and Track and Field, four in Girls Basketball and Swimming, three in Girls Lacrosse and Football, while two will move on in Girls Volleyball, Girls Soccer, Field Hockey, and Softball. Also, represented on this day will be Tennis, Boys Volleyball, Wrestling, Boys Soccer, Boys Basketball, Cheerleading, and Boys Lacrosse.
Here is a list of all of the student-athletes and where they will be furthering their education.
Daphney Adams York College Softball
Madison Amy Moravian College Girls Basketball
Morgan Amy Moravian College Girls Basketball
Noah Briggs Northampton CC Boys Basketball
Hailie Bunting Misericordia University Cheerleading
Loganne Caka Jefferson College Girls Lacrosse
Alysse Danyi Franklin &Marshall College CC/Track & Field
Samantha Gorkos Bloomsburg University Softball
Maria Harding Long Island University Girls Volleyball
Tyler Hoagland Immaculata University Boys Lacrosse
Allie Hoff DeSales University Girls Soccer
Peter Huleatt Hamilton College Swimming
Stephen Karavitch St. Vincent College CC/Track & Field
Emily Kern Cedar Crest College Cross Country
Jillian Kolakowski Palm Beach Atlantic University Girls Lacrosse
Lauren KolakowskiPalm Beach Atlantic University Girls Lacrosse
Caitlyn Lazzarini University of Pittsburgh Girls Soccer
Peyton Mann Kean University Field Hockey
Tommy Manos East Stroudsburg University Football
Stephanie Moncavage University of Albany Field Hockey
Alyssa Mulhearn Washington College Girls Basketball
Blake Nesbitt Bloomsburg University Swimming
Cole Osmun Juniata College Football
Justin Pallante Penn State – Lehigh Valley Boys Soccer
Sean Pierson Princeton University Wrestling
Dariel Rodriguez Wilkes University Boys Volleyball
Haylee Saylor Moravian College Track & Field
Emilia Serafin Kings College Swimming
Skye Swarat Florida Tech CC/Track&Field
Nathan Tauber University of Scranton Boys Tennis
Nick Viva Lackawanna Jr. College Football
Caroline Walsh Indiana University of PA Girls Volleyball
Hannah Wasson Gettysburg College Swimming
Jamie Youngkin Lebanon Valley College Girls Basketball