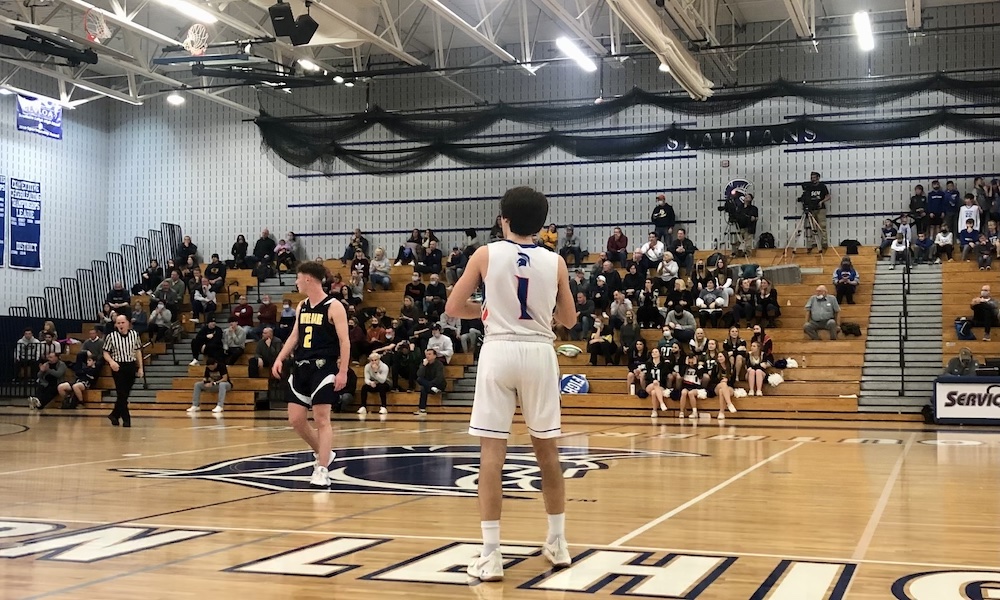 The Notre Dame Green Pond Crusaders' Boys Basketball team traveled to Southern Lehigh High School Thursday night in what was a Colonial League "battle of the un-beatens". The Crusaders were coming off a win versus Northwestern Lehigh on Tuesday night and the Spartans were coming off of their upset over Wilson area on Tuesday night. These wins gave both teams great momentum and a positive mindset walking into Thursday night's game.
The game started out strong for the Crusaders as Junior Zach Rodgers had a solid first half giving the Crusaders the lead early in the first quarter. Southern Lehigh stuck to their key of the game and that was to slow down ND offensively. Southern Lehigh took the first quarter 22 to Notre Dame 19.
In the second quarter, Notre Dame's Brendan Boyle was defensively doubled up, but that did not stop him, and he got his shots through. Notre Dame started to get stronger offensively as the pressure picked up. ND was up by five, 27-22 with four minutes left to go in the first half. Southern Lehigh's Matt Tankred, Michael Andrews, and Dominik Lisicky helped the Spartans gain their confidence on court which took them to the half a point behind. At halftime, the Crusaders took the lead 34 to 33.
At the start of the third quarter, SL's Matt Tankred had 14 points. Matt's 14 points along with Dominik Lisicky's defense over ND's Brendan Boyle helped Southern Lehigh get the lead 39-37 with 4:24 to go in the third. At the end of the third-quarter, Notre Dame trailed Southern Lehigh 47-44.
It was a three point game to start the fourth quarter after a very fast paced first half and a much slower third quarter. The score remained close all throughout the fourth quarter and it was the free throws that helped keep the teams so close together. With 4:43 left to go in the game, it was a one point game with SL 51- ND 50. Then in the final two minutes of the game, Southern Lehigh kicked into a new gear and took the lead 58-50. Notre Dame did not stop though, as they ran the scoreboard to 57, but the Spartans answered back with seven more points.
The Crusaders fell short in Thursday night's Colonial League match up as the Southern Lehigh Spartans won with a final score of 65-57.