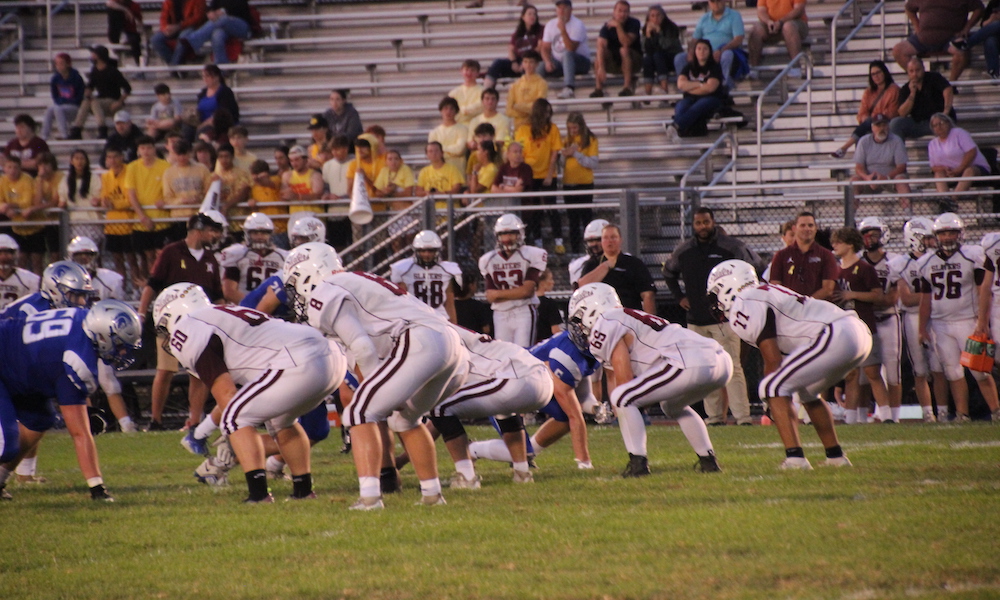 A quick start and a big offensive first half gave Southern Lehigh all of the momentum needed to cruise to a 29-12 victory over Bangor.
Southern Lehigh's Cade Sawyer started the scoring in the first quarter on his first carry of the game going 47 yards to the end zone. Ayden Scharper's kick was good and the Spartans led 7-0 on their opening drive. "Cade has been breaking so many tackles the first couple of games and he hit the hole and made a nice run," said Head Coach Phil Sams.
Bangor answered the drive when Eric Striba shoveled a pass to Greg Campbell for a 21-yard touchdown. Sawyer blocked the extra point attempt and the Spartans led 7-6 with 4:29 left in the first quarter.
Late in the first quarter, Jack Inglis had what could be considered the play of the year, making an incredible circus-like catch on the back of the defender. He kept control of the ball with his arms around the defender. This was a 25-yard touchdown pass from Avery Koser which extended the Spartans' lead to 14-6.
"We were backed up and sometimes, I think, should I take a shot this early," said Sams. "Koser made an incredible adjustment. The defensive player made a nice play and he just went over his back and made an amazing catch."
Koser went on to throw his second touchdown of the half. Before the touchdown, he just missed a receiver streaking down the field. On the very next play, he found Andrew Olesh for a 46-yard touchdown with five seconds left in the half. Koser passed to Will Knudson for the two-point conversion.
"We were trying to isolate our running back and Knudson made a good play on the ball," said Sams. "He is 6-foot-3 and he can outjump most people." Southern Lehigh went into halftime leading 21-6. "That was a big play right before halftime to give us a two-score lead," said Sams.
The Slaters cut into the Spartans' lead in the second half. Running back Noah Hillis powered in from one yard out for the score. The two-point conversion was no good and it was 21-12, Southern Lehigh, with 9:33 remaining.
But the Spartans couldn't be stopped. Koser had a 32-yard touchdown run with 4:58 left in the game to seal the win for Southern Lehigh. Koser had a big night passing for 128 yards, and two touchdowns, and added 66 yards rushing and a score.
Southern Lehigh travels Friday night to play Palisades. Bangor is on the road at Saucon Valley Friday night.
| | | | | | |
| --- | --- | --- | --- | --- | --- |
| Final | 1st | 2nd | 3rd | 4th | T |
| Bangor (2-1) | 6 | 0 | 0 | 6 | 12 |
| Southern Lehigh (2-1) | 14 | 7 | 0 | 8 | 29 |
1st quarter
SL: Cade Sawyer 47-yard run (Ayden Scharper kick good) 10:02
B: Eric Striba 21 yard pass to Greg Campbell (kicked blocked) 4:29
SL: Avery Koser 25-yard pass to Jack Inglis (Ayden Scharper kick good) :59
2nd quater
SL: Avery Koser 46-yard pass to Andrew Olesh (Ayden Scharper kick good) :05
4th quarter
B: Noah Hillis 1-yard run (failed) 9:33
SL: Avery Koser 32-yard run (Avery Koser pass to Will Knudson) 4:58
Photos by Jensyn Buist