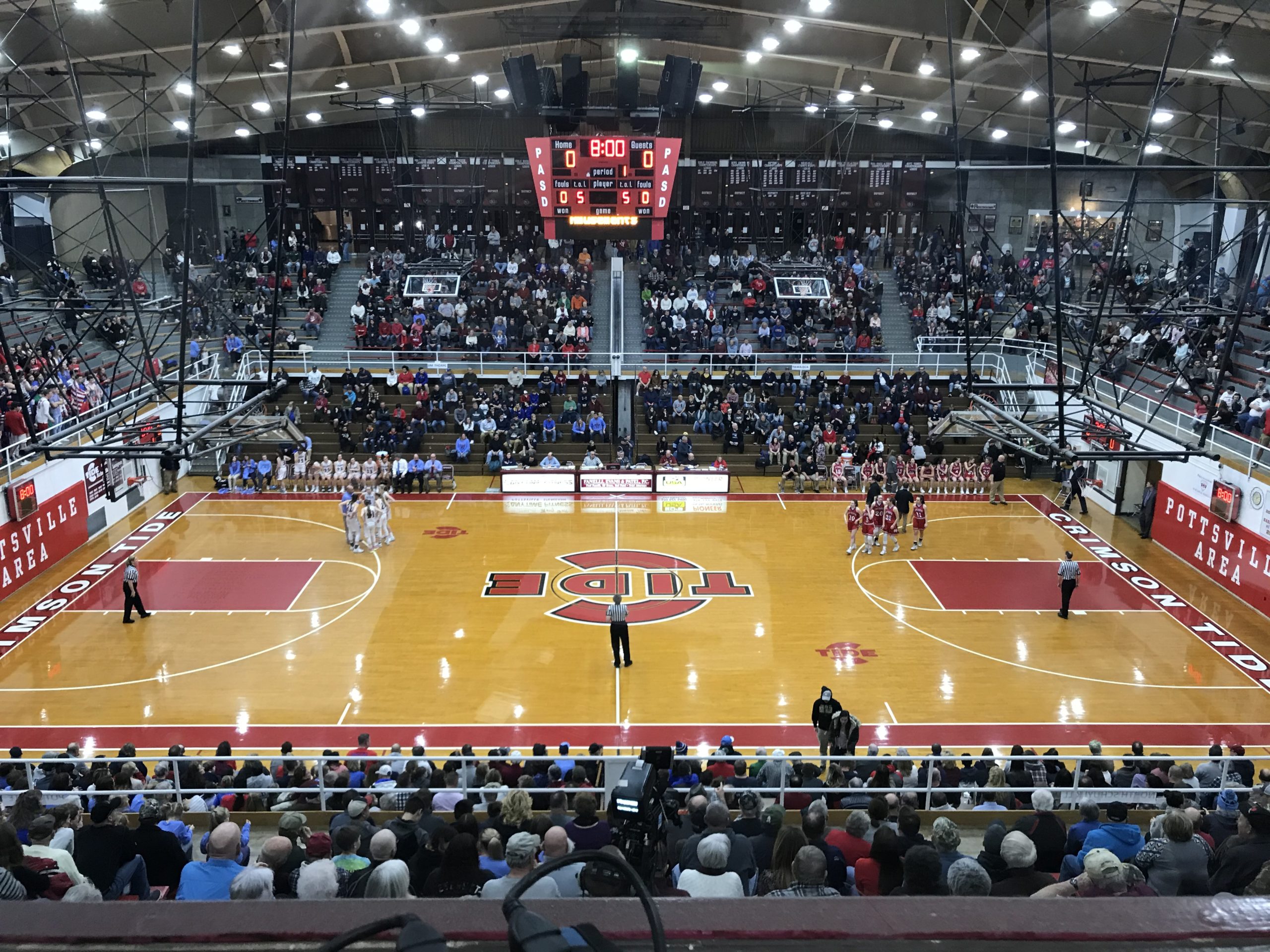 By Brad Hurley
Adversity.
North Schuylkill faced just that many times throughout Friday night's Schuylkill League championship against Jim Thorpe.
But the more adversity the Spartans faced the more resilient they became, overcoming a late six-point deficit to come away with a 49-46 victory over the Olympians. With the win, in front of a packed house at Martz Hall, the Spartans (19-5) won their 15th Schuylkill League championship in school history.
"This has been the way this team has played all year. They've been able to come together when faced with adversity," said Wetzel. "It's 16 players, playing for one purpose and that showed tonight."
North Schuylkill needed to battle back early after Jim Thorpe jumped out to a 17-5 first quarter advantage. Leila Hurley had the hot hand in the frame, scoring 12 points to lead the Olympians.
But in the second period, the Spartans got back in it, limiting Thorpe's transition opportunities and forcing it to play more in the half court. North Schuylkill forced five JT miscues in the quarter and closed within 23-19 at halftime. Post player Joslin Stitzer was the offensive catalyst for the Spartans, scoring six in the quarter, including two big buckets off offensive boards.
"We turned the ball over way too much in the first quarter and they were able to get out in transition," said Wetzel. "We forced them to play more half court offense in the second quarter and that's when we were able to close."
North Schuylkill grabbed its first lead of the game at the 2:51 mark of the third quarter on two made free throws from Kamryn Mengel. But the Olympians still ended the third with the lead (33-32).
Thorpe appeared to have the upper hand in the fourth quarter, opening a six-point lead on a couple of occasions. With 2:30 remaining, Mengel, the Spartans' leading scorer on the season, picked up her fifth foul —. and when Hurley converted a pair free throws after the foul, Jim Thorpe was ahead 43-37.
The Spartans weren't finished, however, as Maya Wetzel hit a deep three from the top of the key and Sarah Wagner converted a three-point play to knot the score.
Thorpe was still able to get control again, going up by three with a minute remaining.
But that's when the game turned into the Savanna Gawrylik show.
The Spartan freshman cut the Thorpe advantage to a point on an inside deuce and a foul with :30 remaining. Gawrylik missed the free throw, but the Spartans forced a jump ball on the rebound to give them the ball underneath the basket with :27 left.
A defensive breakdown by Thorpe allowed Gawrylik to receive a pass on the left baseline and go strong to the basket for a layup that gave North Schuylkill a 47-46 lead.
A couple of Jim Thorpe turnovers and two North Schuylkill made free throws made it 49-46 with under three seconds left.
When a three-quarter court desperation heave by the Olympians fell short, North Schuylkill had closed out the comeback victory.
"As the game went on, we just stopped being aggressive in the half court, which led to turnovers. We tried to force the ball at times and didn't take care of the ball," said Olympians' head coach Rob Kovac. "Even with all that, we still had the lead, Mengel fouls out, and we're in good shape. But we had some defensive breakdowns, and I think we left some points on the floor.
"Credit has to go to North Schuylkill. That's a great basketball team. A year ago, we were on the fortunate end of a game like this and we had the ball bounce our way a bit. Tonight, that didn't happen."
LEADERS … Mya Wetzel led the Spartans (19-5) with 13 points, Wagner added nine and Mengel and Gawry chipped in with eight apiece. Hurley scored a game-high 17 for Jim Thorpe (21-3). Smelas added 10 and Searfoss had nine.
TURNOVER TOWN … Turnovers played a big role in the game. The Olympians had 23, including some crucial miscues down the stretch.
NORTH SCHUYLKILL
Hines 1-2-4-5, M. Wetzel 4-1-4-13, Mengel 2-4-6-8, Gawrylik 3-2-3-8, Wagner 2-4-5-9, Stitzer 3-0-0-6. Totals: 15-13-22-49.
JIM THORPE
Scott 1-0-2-2, Snisky 1-0-0-2, Yuhas 3-0-1-6, Hurley 6-4-5-17, Searfoss 2-5-8-9, Smelas 5-0-0-10. Totals: 18-9-16-46.
No. Schuylkill 5 14 14 16 – 49
Jim Thorpe 17 6 10 13 – 46
Three-pointers: NS – Wetzel 4, Hines 1, Wagner 1; JT – Hurley 1.