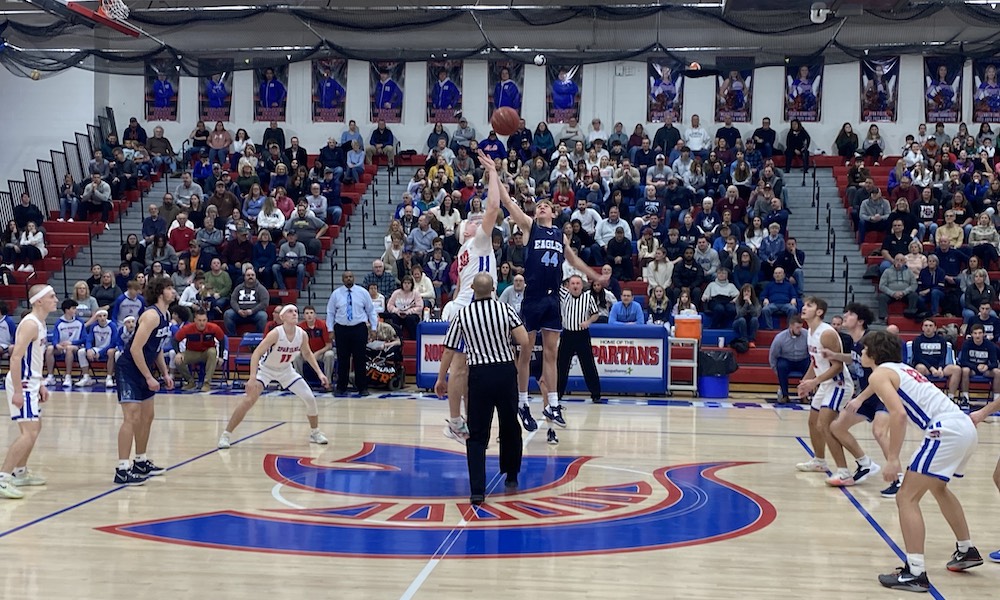 On a night when offense reigned supreme, the North Schuylkill Spartan Boys Basketball team used second chance opportunities to get the best of the Blue Mountain Eagles.
The Eagles jumped out to an early lead with Brogan Campbell leading the scoring for the eagles with 11. He shot an impressive 3/3 from beyond the three point line in the first. The Spartans fell behind 17 to 13.
Zane Zulkowski found his shot in the second quarter, totaling ten points in the quarter. Joey Flail scored five but would put in impressive work on the offensive glass totaling a number of second chance offensive rebounds. The Spartans caught some momentum and went into the half leading 34 to 31.
Jack Keiter made the third quarter one to remember by scoring ten for the Spartans. Zulkowski added six more in the third, helping the Spartans to take their largest lead of the game at that point. By the end of the third they would lead 50 to 40.
The Spartans totaled their highest point value in a quarter during the fourth with five different players sinking shots. Zulkowski, Flail, and Keiter were joined by Drew Miller and Bryce Cuthie on the score sheet. The Spartans prevented the Eagles from making a comeback and captured the win 74 to 56.
The Eagles fall to 13 and 3 and move into second place in the Schuylkill League. The Spartans move into first and will look to continue winning against Kutztown on Saturday.
An interview with Spartan Forward Joey Flail
An interview with Spartan Forward Joey Flail. @D11Sports @J_Flail32 pic.twitter.com/KJK8hV7vPc

— Luke Stefanisko (@LukeStefanisko) January 21, 2023