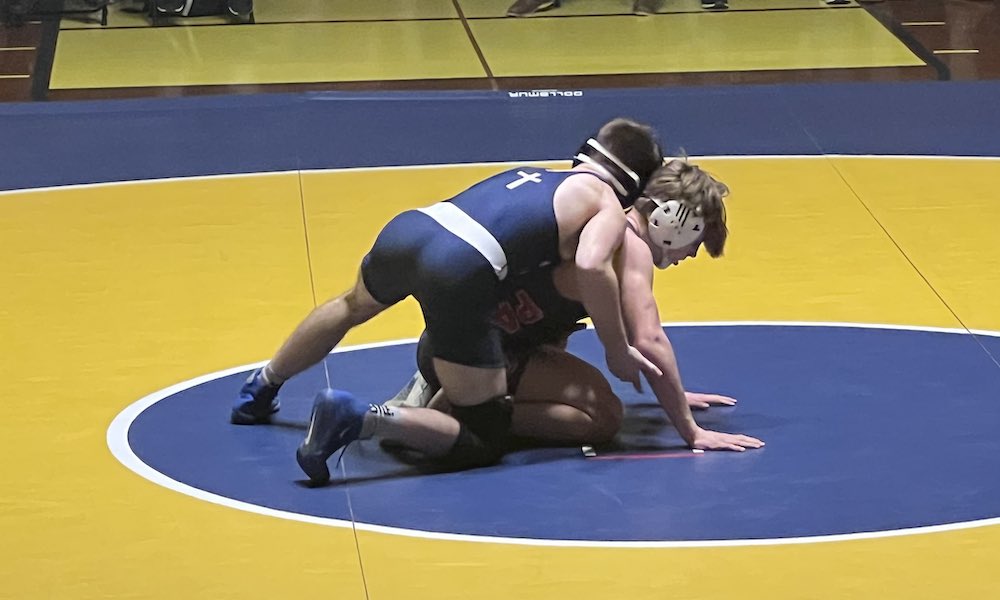 BETHLEHEM – Notre Dame-Green Pond hosted Saucon Valley Friday night in a showdown in front of a packed crowd. The Crusaders came out with a 40-20 win over their rival, Saucon Valley.
The night got started when the Panthers forfeited the first two matches (107 and 114).
Saucon Valley won the next three matches. At 121, Cole Hubert defeated Cooper Feltman 7-1 and at 127, Aiden Grogg won a close match 7-5. Hector Mateo got the win over Tanner McQueen 8-4.
After five matches, it was Notre Dame-Green Pond 12 and Saucon Valley 9.The next three matches were dominated by the Crusaders. Bryson Vaughn defeated Jackson Albert 7-0 at 139. Notre Dame-Green Pond got back-to-back pins by Vince Bouzakis (21 seconds) and Keegan Ramsay (19 seconds). Notre Dame-Green Pond added to their lead 30-9 after eight bouts.
Saucon Valley got a tech fall by Liam Scrivanich and a pin by Jake Jones. But it wasn't enough as the Crusaders won 40-20.
107 – Tanner Berkenstock (NDGP) forfeit win
114 – Ayden Smith (NDGP) forfeit win
121 – Cole Hubert (SV) d. Cooper Feltman (NDGP) 7-1
127 – Aiden Grogg (SV) d. Gavyn Kelton (NDGP) 7-5
133 – Hector Mateo (SV) d. Tanner McQueen (NDGP) 8-4
139 – Bryson Vaughn (NDGP) d. Jackson Albert (SV) 7-0
145 – Vince Bouzakis (NDGP) pinned Leonidas Zaharakis (SV) 21 seconds
152 – Keegan Ramsay (NDGP) pinned Mason Beckowski (SV). 19 seconds
160 – Liam Scrivanich (SV) TF. Nate Thomas (NDGP) 17-0
172 – Holden Garcia (NDGP) pinned Landon Beckowski (SV) 1:45
189 – Jake Jones (SV) pinned Conner Smalley (NDGP) 1:23
215 – Jared Blobe (NDGP) d. Evan Leibert (SV) 19-8
285 – Aiden Compton (NDGP) d. Tyler Pfizenmayer (SV) 5-1