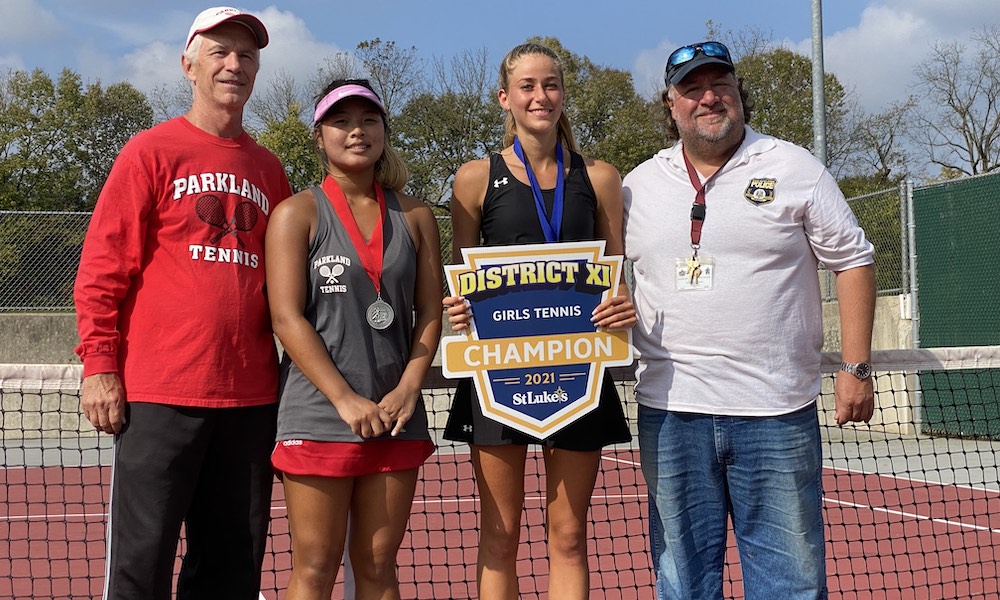 It should come as no surprise that Paraskevi Briegel won the District XI AAA girls singles championship. After all, the Stroudsburg senior was undefeated this season entering Thursday afternoon's championship match.
Briegel took care of business at Parkland High School, defeating Parkland junior Erin Joo on her home court 6-1, 6-3. This win punched Briegel her third consecutive ticket to Hershey for the state championship tournament.
"This year was a little different. I felt less pressure and had the most fun, maybe because it was the last time I got to play in this tournament," explained Briegel.
Briegel is the first Stroudsburg girls tennis player to three-peat at the District XI AAA championship. The only other Mountaineer tennis player to accomplish this feat is Tarik El-Bassiouni, who three-peated from 1996-1998 on the men's side. El-Bassiouni won the state championship his senior year, something that Briegel will also look to accomplish.
Throughout the offseason, Briegel consistently put in hard work to improve her game. The skills she developed will certainly help her at states and in college. In September, Briegel announced that she will be staying close to home and continuing her tennis career at the Division 1 level at Lafayette College.
"My mindset coming into Districts was to rely on all of the work I've put in, on and off the court, so that I could have fun playing each match," said Briegel. "Staying loose, positive, and confident are important in helping me play well, so putting in the work before Districts really paid off."
While she could have looked over this year to prepare for college, Briegel made sure to focus on her final high school season and enjoy the time with her teammates.
"My teammates are amazing. The team chemistry and work that everyone put in helped us to get second in the EPC tournament," said Briegel. "I feel that my teammates always had my back which helped me throughout the entire season."
Briegel will look to improve on her fourth place finish in 2020 and take home the state championship. The state tournament will take place November 5-6 in Hershey, PA.