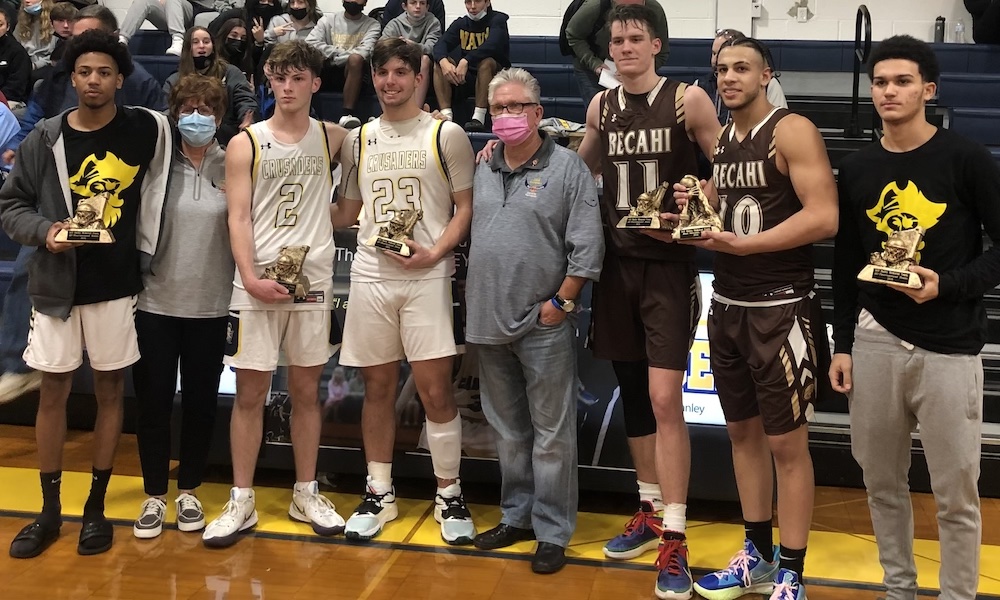 Jeff Dailey, a Notre Dame Green Pond graduate in the class of 2004, is and continues to be the all-time leading scorer for Varsity Basketball at Notre Dame. After high school, Jeff then went on to Cabrini College for two years until he transferred to East Stroudsburg University. Tragically, in 2007, while at East Stroudsburg University, Jeff lost his life in a fire. In 2008, Jeff Dailey was inducted into the Lehigh Valley Basketball Hall of Fame. Jeff personified the saying, "I am my brother's keeper." Jeff Dailey was loved by all and was well known in the Lehigh Valley for being a well rounded kid.
Notre Dame Green Pond annually hosts a basketball tournament to help "tip-off" the team's basketball season, as well as the seasons of the teams who participate each year. The event not only starts the season, but also serves as a way to remember Jeff Dailey and to honor his family and foundation.
The 2021 Jeff Dailey Memorial Tip-Off Classic consisted of teams from five schools: Bethlehem Catholic, La Academia Charter, North Pocono, Notre Dame Green Pond, and Roberto Clemente Charter School. This year's tournament was held on December 10th and 11th in Easton.
The first game of the tournament consisted of Bethlehem Catholic versus La Academia Charter in which the Hawks took the win and advanced to the Championship game on the 11th. The second matchup of the tournament took place Friday night when Notre Dame Green Pond took on Roberto Clemente Charter School and captured the close win, 79 to 76.
The schedule for Saturday, December 11th, consisted of two games – game 1, Girls Varsity Basketball and game 2, the Boys Basketball Championship. The Lady Crusaders took on North Pocono in their Jeff Dailey Memorial Game where Notre Dame fell short by three with a final score of North Pocono 36 – Notre Dame 33.
The tournament concluded with a competitive matchup between the Bethlehem Catholic Golden Hawks and the Notre Dame Crusaders. The 2021 Jeff Dailey Memorial Tip-Off Classic Championship went to Bethlehem Catholic with a final score of 68-66.
The Crusaders' and Lady Crusaders' Basketball teams both keep their eyes on the prize and focus on their regular season, which is yet to come.
This weekend means so much to the players, but it means more than words can describe to the Dailey family. If you would like more information on the foundation, you can visit this link : http://www.doitfordailey.com/Jeff_Dailey_Memorial_Foundation_-_Home.html