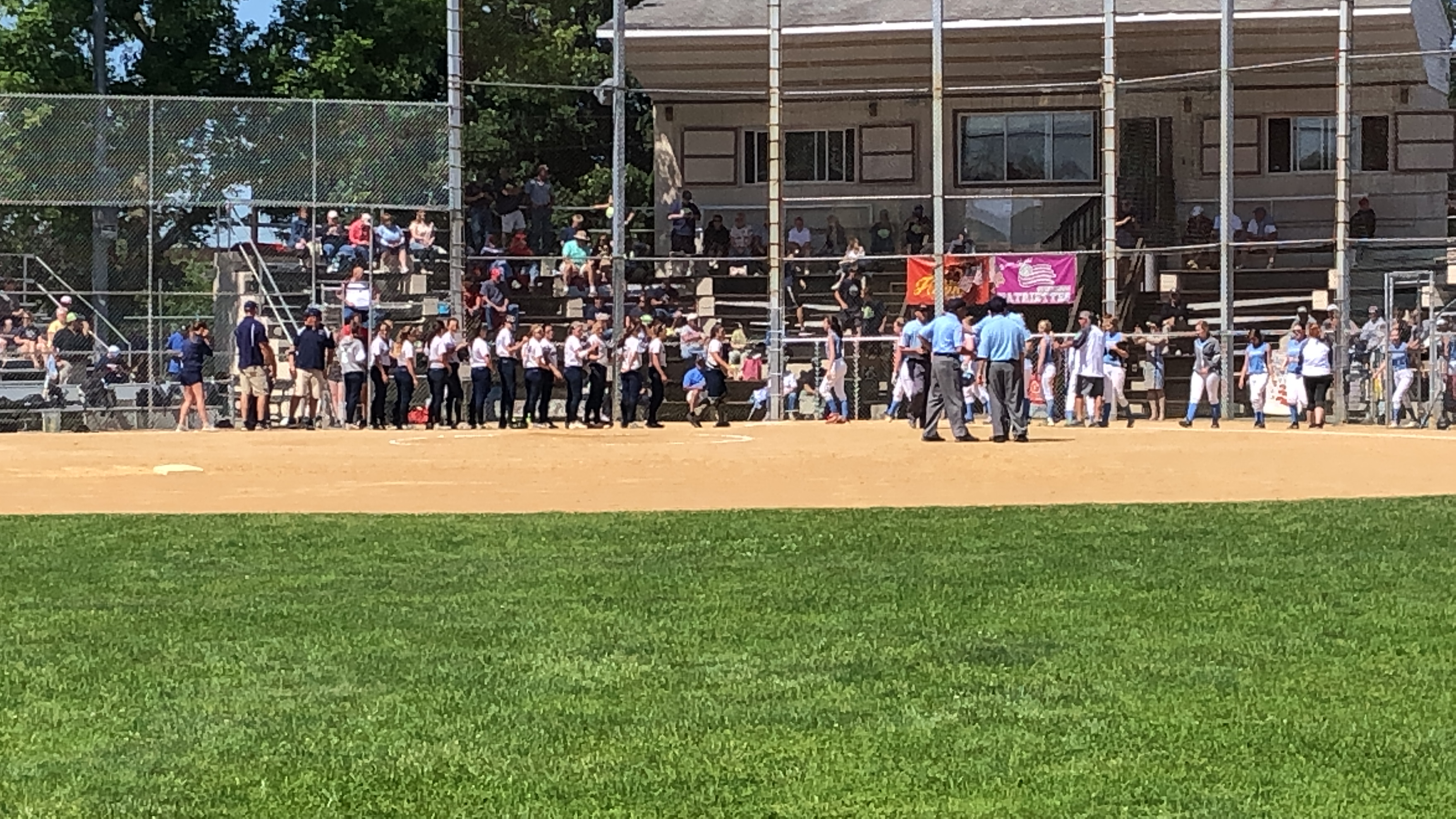 The dream season continues for the Northern Lehigh Bulldogs. On Monday afternoon at Pates Park in Allentown, the Bulldogs used their bats and solid pitching leading them to a 10-0 win over Philadelphia Academy Charter in the opening round of the PIAA 2A tournament.
Alicia Horn was on her game once again as she struck out 11 batters while giving up just three hits leading Northern Lehigh to their first state playoff win since the late 90's. The Bulldogs broke the game open in the second inning behind a 2-run double by Lauren Hoffman and a RBI-triple from Halie Krasenics.
The Bulldogs are still two games under .500 at 11-13 overall but they are playing their best so far this season. Next up will be District 3 Champion Susquenita on Thursday in the PIAA 2A quarterfinals.
A @PIAASports triple header underway at Pates Park. Game one: @AthleticsNlsd facing Philadelphia Academy Charter. Alicia Horn gets out of a bases loaded jam in the first. She strikes out the side. pic.twitter.com/TrYEyEKO5n

— D11Sports (@D11Sports) June 3, 2019
The @AthleticsNlsd Bulldogs plate two in the bottom of the first and lead 2-0 in the opening round of the @PIAASports tournament. pic.twitter.com/Nq6i0fSewY

— D11Sports (@D11Sports) June 3, 2019
Alicia Horn bringing her "A" game as she strikes out the side again in the top of the second. Six thru 2 innings if you are counting. @AthleticsNlsd @PIAASports pic.twitter.com/R1uTK7zWvq

— D11Sports (@D11Sports) June 3, 2019
. @AthleticsNlsd break the game open in the bottom of the second as they score four runs. Lauren Hoffman with a 2- run double to get things going. @PIAASports pic.twitter.com/c99lUP66f8

— D11Sports (@D11Sports) June 3, 2019
More from Horn in the third and 4th innings as she turns it up a notch and now has nine strikeouts as she ends the inning. @AthleticsNlsd add four more runs to lead 10-0 heading into the 5th. pic.twitter.com/5oN1MAq3IT

— D11Sports (@D11Sports) June 3, 2019
.@AthleticsNlsd wins 10-0 over Philadelphia Academy Charter in the opening round of the @PIAASports tournament. Alicia Horn ends the game with 11 strikeouts. It's on to Thursday's state quarterfinals. pic.twitter.com/Qrw8sRZgLi

— D11Sports (@D11Sports) June 3, 2019
Kate Farber and Alicia Horn talk about @AthleticsNlsd 10-0 @PIAASports first round win over Philadelphia Academy Charter. pic.twitter.com/kKpYypQtDa

— D11Sports (@D11Sports) June 3, 2019