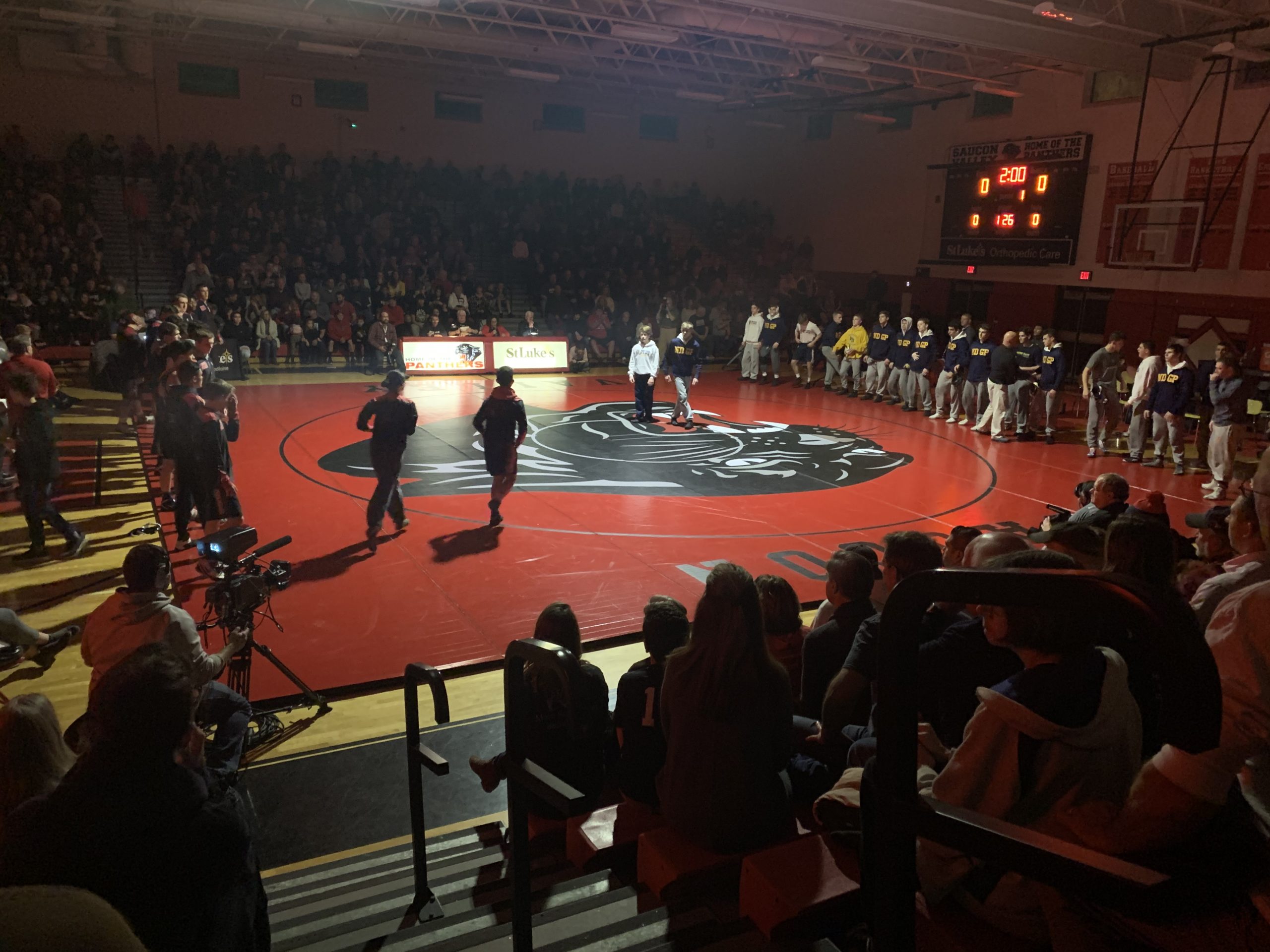 The Saucon Valley Panthers went in to this December 10 matchup against the Notre Dame Crusaders cruising to a 73 consecutive league match win streak. After years of domination, the Crusaders were determined to end this streak.
The gym at Saucon Valley High School was packed in preparation for this matchup. The atmosphere in the gym was electric with anticipation after the National Anthem was played. The perimeter lights went out, and the spotlight shined at the center of the Panther's wrestling mat. It was time to kick off the 2019-20 wrestling season for both of these star-studded teams.
The Crusaders started off hot, winning both of their first two matches by pinfall. This resulted in a quick 12-0 lead. The Panthers then won in overtime in the 138 lbs match, which made the score 12-3. The Crusaders came back and won the 145 lbs matchup, increasing the lead to 15-3.
After the Panthers won two consecutive rounds by pinfall, the score was tied up 15-15. Next up was last year's Pennsylvania State Champion, Andrew Cerniglia, for Notre Dame. Cerniglia dominated in his matchup, winning by pinfall quickly after the match began. Saucon Valley struck again, winning a match by pinfall to tie up the score at 21-21.
Notre Dame sophomore, Derek Berlitz, fired back by winning the match of the night! Berlitz put the Crusaders up 24-21 after winning his thrilling 195 lbs matchup in triple overtime. Riding off the momentum from the last match, the Crusaders took the 220 lbs match and had a 30-21 lead.
The Panthers were not ready to lose their home opener. Saucon Valley snatched the momentum from the Crusaders and won the 285 lbs matchup by pinfall to make it a slim 30-27 Crusaders lead. Notre Dame then came out with an impressive turn of events. The Crusaders won three matches in a row, and two of them by pinfall resulting in a 47-27 victory.
This back and forth wrestling match will be one to remember for the Crusaders. Now, Notre Dame looks to improve off their victory as their next Colonial League matchup is against the Palmerton Blue Bombers at Palmerton High School on December 16.