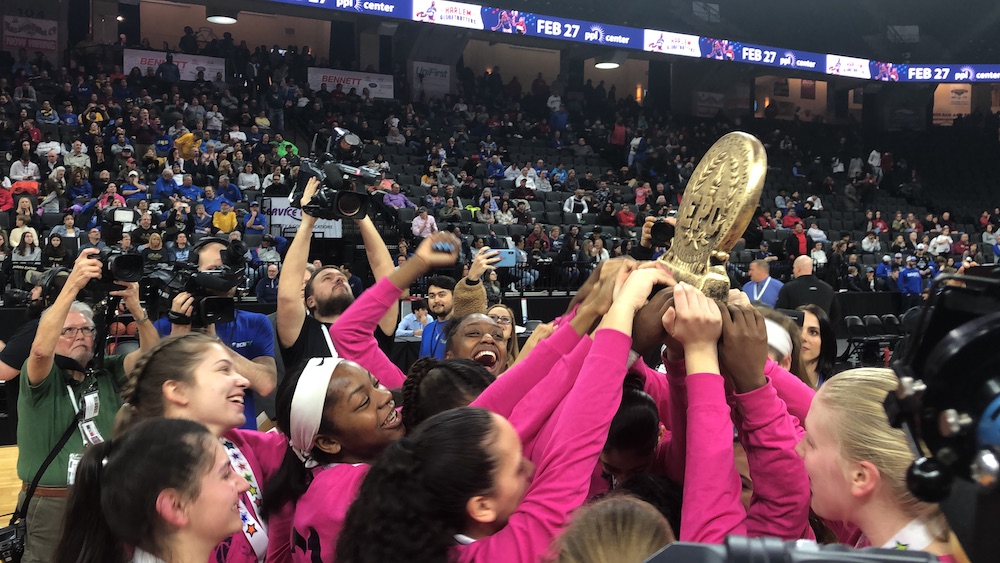 The East Penn Conference Girls Championship hit the court inside the PPL Center on Thursday night. Top seed and defending champion Bethlehem Catholic faced off against number two seed Nazareth.
The Golden Hawks won the regular season meeting on January 1, 44-26 on a night that Taliyah Medina scored her 1000th career point. This night much different as the Blue Eagles used a 9-0 second quarter run to lead at the half 19-11. A 12-3 second quarter for Nazareth and a solid performance by Kelly Leszcynski who scored 10 first half points.
Things changed quickly in the third as Taliyah Medina got hot scoring 8 points including a 3-point play that ignited a 14-2 run and Golden Hawks led 23-21 after three.
To the 4th, Leszcynski hit her 3rd three of the game to even the game at 26-26 with five minutes left in regulation. But Kourtney Wilson scored five straight points to help the Golden Hawks to their 4th straight league championship 34-28 over Nazareth.
Medina and Wilson led Bethlehem Catholic with 10 a piece while Leszcynsk paced The Blue Eagles with 15 and was named Stacey Perryman Most Outstanding Player. The Two teams now get ready for Districts which get underway next week.
Getting ready for the @EastPennConf18 Girls Championship between @BecahiGBB and @NazGBball at the @PPLCenter. Should be fun. pic.twitter.com/T8w9xofI3e

— D11Sports (@D11Sports) February 13, 2020
The @NazGBball use a 9-0 2nd quarter run and they lead @BecahiGBB 19-11 at the half. @kellyleszcynski with two big threes as she hits for 10 points and they also get transition points by @talyabrugler. pic.twitter.com/WKmG2bD3hX

— D11Sports (@D11Sports) February 13, 2020
A big turnaround at the @PPLCenter. @Taliyah_medina scores 8 points and the @BecahiGBB go up 26-21 after three quarters as they used a 14-2 run. @NazGBball @NAHSBlueEagles @Becahi_Hawks @medina_taliyah pic.twitter.com/WM8MfMkJip

— D11Sports (@D11Sports) February 14, 2020
Another @EastPennConf18 championship for @BecahiGBB. They win 35-28. pic.twitter.com/yfHthibtda

— D11Sports (@D11Sports) February 14, 2020
Here are the 2019-20 @EastPennConf18 champions @BecahiGBB as they win their 4th straight title beating @NazGBball 34-28. @Becahi_Hawks @NAHSBlueEagles pic.twitter.com/BGixcQfIiu

— D11Sports (@D11Sports) February 14, 2020
Here is winning head coach @JMED7003 after his team brings home the hardware. @Becahi_Hawks @BecahiGBB @EastPennConf18 pic.twitter.com/eUAT2hFFcV

— D11Sports (@D11Sports) February 14, 2020
More from tonight's @EastPennConf18 championship as @Taliyah_medina talks one on one with @joeydra1 about the new hardware. @BecahiGBB @Becahi_Hawks @medina_taliyah along with @EmilySekerak are our two newest @D11Sports Student Reporters. pic.twitter.com/S505jrfs1l

— D11Sports (@D11Sports) February 14, 2020
The @BecahiGBB medal presentation after beating @NazGBball to claim their 4th straight @EastPennConf18 title. @Becahi_Hawks pic.twitter.com/lLg2a9HRnH

— D11Sports (@D11Sports) February 14, 2020