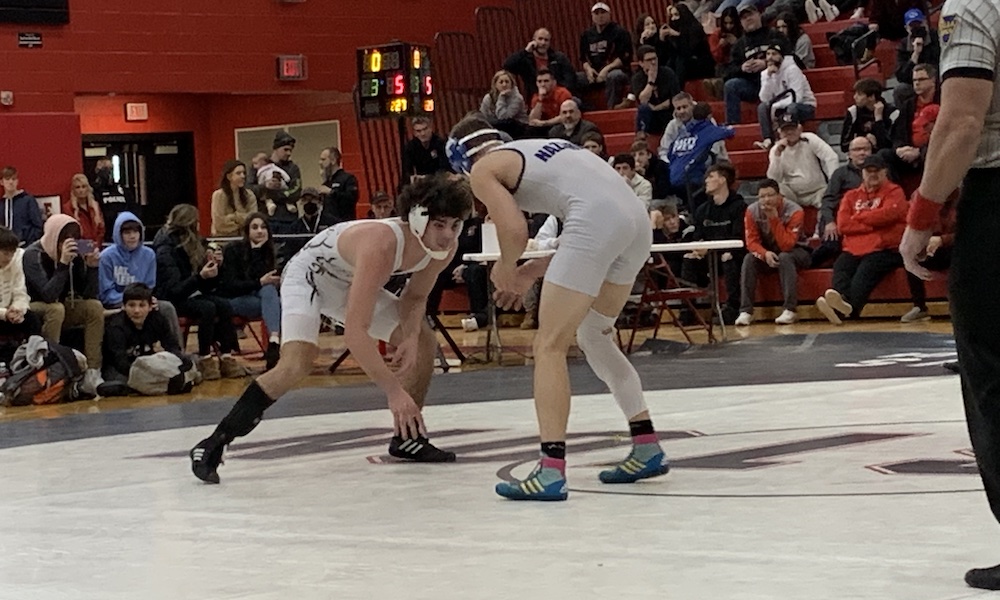 This past Saturday made for quite the nail-biting afternoon at Easton Middle School. Not because of the brisk weather and the icy roads, but because of an EPC Championship Wrestling Match between none other than Bethlehem Catholic and Nazareth. Both teams had incredibly strong seasons, with Bethlehem Catholic having an 8-0 record overall and Nazareth having a 12-0 record overall.
Nazareth had a relatively strong start going into this match. Sean Kinney (285) was quick to take the advantage and pinned Bethlehem Catholic's Elijah Thompson, ending the first bout of the EPC championship match. Bethlehem Catholic wasn't going to just sit and take it though. In the following bout, their own Nate Desmond (106) pinned Nazareth's Dominic Rizzotto to even out the score.
For most of what was remaining of the match, many of the bouts resulted in decisions. Tahir Parkins (113) of Nazareth won by decision against Cole Campbell of Bethlehem Catholic with a 6-1 score, then followed by Bethlehem Catholic's Cael McIntyre (120) winning by decision over Nazareth's Charlie Bunting with a 7-1 score. After these bouts, Bethlehem Catholic began to break away on the scoreboard and create some distance between themselves and Nazareth.
Bethlehem Catholic took the next five bouts by decision. At this point, there wasn't much that Nazareth could do in order to seize the lead from Bethlehem Catholic. Nazareth wouldn't go out without a fight though, as Dominic Wheatley (160) stepped onto the mat and went on to win by decision against Bethlehem Catholic's Landon Muth. In return, Bethlehem Catholic sent out Luke Thomas (172) to take a 7-3 victory over Nazareth's Ryan Fairchild. Chase Levey (189) of Nazareth won by decision against James DeLuise of Bethlehem Catholic. Nazareth's Sonny Sasso (215) pinned Bethlehem Catholic's Nico Spezza.
Bethlehem Catholic's Wrestling Team reigned victorious over Nazareth, claiming EPC Championship and qualification for states. This isn't the end for Nazareth though, as they could still potentially qualify for states through districts. With both of these teams participating in districts, there's also the possibility that they could face again. Should they be pitted against each other once more, is it possible that Nazareth could come back stronger in districts and beat Bethlehem Catholic, or will it only result in a similar outcome? Although the answer is uncertain, one thing remains clear, Bethlehem Catholic is the EPC Champions.