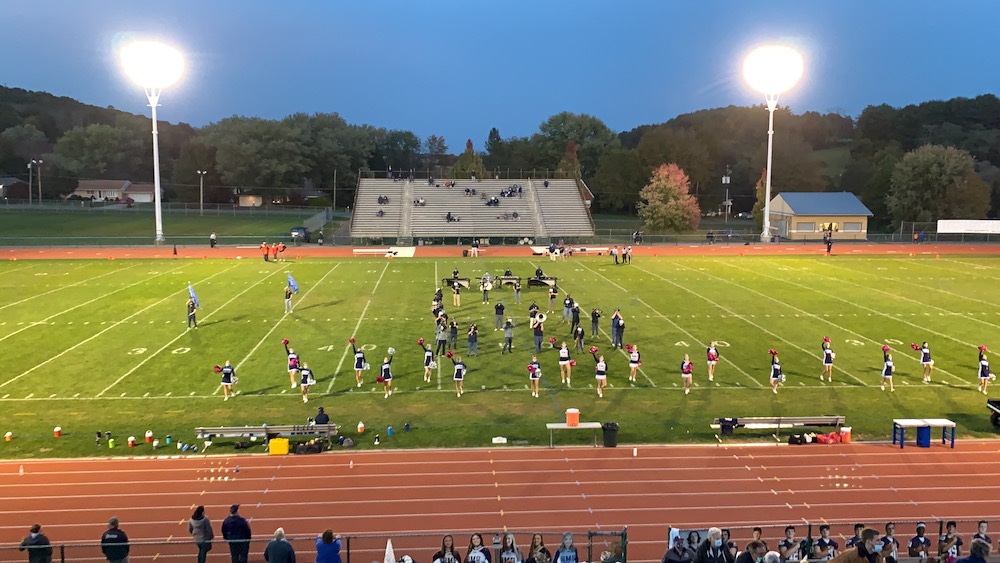 Blue Mountain came into Friday's matchup with Tamqua fired up after three straight losses to Jim Thorpe, North Schuylkill, and Pine Grove. Tamaqua entered the matchup with a 3-1 record and was coming off a close 21-12 loss to Pottsville. The Eagles looked like an entirely new team after some personnel changes and relied on their bread and butter of Bryce Hensley and Eman Parker scoring long touchdowns. The Eagles combined two long touchdowns, capitalizing on Tamaqua turnovers, and defensive stops near the goal line in order to take a 28-0 victory and improved their record to 2-3.
Tamaqua started off the game with usual quarterback Nate Wickersham split out and tight end Nate Gregoire was under center. On their first drive, Tamaqua's three pronged running attack of Nate Curvey, Logan Hess, and Lucas Schickram drove them down the field to the four yard line before the stout Eagles defense turned the Raiders over on downs.
A three and out and a short punt by Blue Mountain gave Tamaqua the ball in great field position. On the ensuing Blue Raider drive, Nate Wickersham went back under center and fired a pass toward the Blue Mountain sideline behind the line of scrimmage and alertly Bryce Hensely picked it up and bolted toward the end zone for an Eagle score.
Tamaqua put together another drive down to the 15-yard line but not until a strip sack and recovery by the Eagles gave them the ball back with a 6-0 lead. On the first play after the turnover, Eman Parker took a sweep toward the near sideline and turned on the jets to fly to the end zone for another Eagles touchdown. A failed two point conversion put the Eagles ahead 12-0. After only running 5 offensive plays, one being a punt, the Eagles had a two score lead as a cushion for new quarterback Gavin Bartholomew. Bartholomew, a Buffalo commit tight end, was inserted at starting quarterback in order to get the ball in his hands as much as possible. The change was not that drastic, as he was always a backup option behind Hunter Luckenbill and Jason Dean in previous years. He found his comfort zone quickly by converting multiple passes to Hensley, Nick Johnson, and Derek Walasavage.
As the end of the half was approaching, Bartholomew found Bryce Hensley on a beautiful stop and go route to the end zone for a touchdown. The two-point conversion was successful and the Eagles led 20-0 going into halftime. In the second half Bartholomew would cap off his performance with a 34-yard touchdown and two-point conversion run for the final score. Tamaqua would drive down to the two-yard line in the fourth quarter before Gavin Guers batted away a fourth down pitch pass play in the end zone for a turnover on downs. The balanced running and passing attack contributed 160 yards a piece for the Eagles offense.