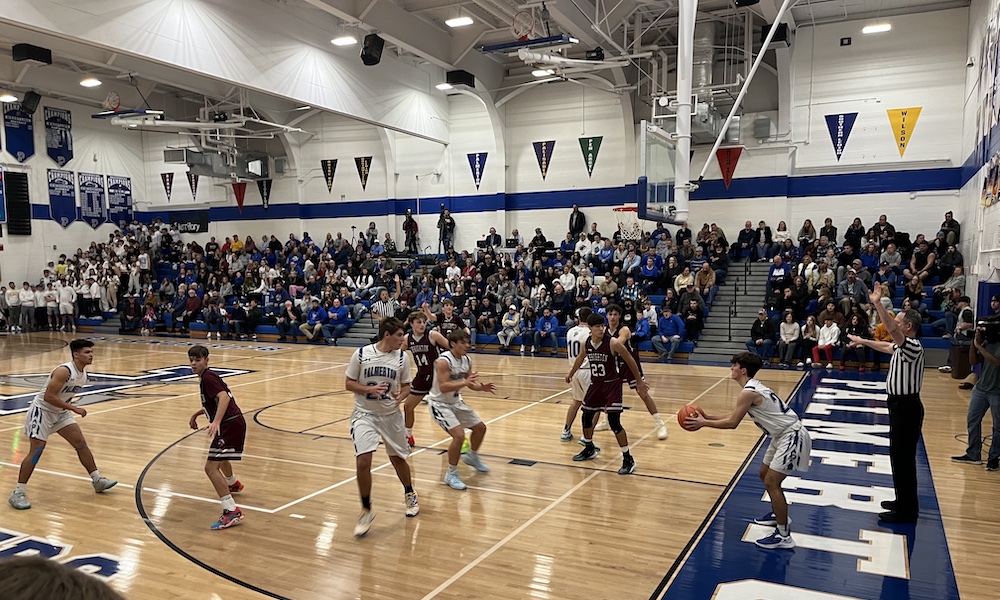 There is no better way to top off a new basketball season than a long time rivalry. The Lehighton Indians and Palmerton Bombers rivalry always makes for a game of high intensity. This year the Bombers took on the Indians at Palmerton, on their home court. After a long and aggressive game, the Indians fell to the Bomber 45-36. The Bombers were able to keep the 248 trophy in their possession.
Lehighton came into the season with an inexperienced varsity team, not starting one senior but instead two freshmen, Blake Roberts and Cole Dietz. During the first quarter of the game, Palmerton's more experienced team was showing it to the Indians. When the second quarter rolled around, the Indians began to play their game and got closer to the Bombers. The first half came to an end with a close score. The score at the half was Palmerton 19, Indians 17 but both teams were approaching foul trouble.
The fans of both the Bombers and the Indians had lots of energy at the beginning of the second half and wanted to see their team win. The third quarter displayed a great game of basketball. Early in the quarter, Lehighton took back the lead before giving it back to the Bombers due to foul trouble. Three pointers were scored by both teams. Fr. Cole Dietz of Lehighton had his third of the game and Jr. Jacob Grammes of Palmerton had his first.
The third quarter finished with a 32-24 score and the Bombers kept their winning position. During the fourth quarter, the Indians experienced a great deal of foul trouble. Luke Blauch, Owen Serfass, and Joe Roth all fouled out of the game. Jr. Brayden Hosier of the Palmerton Bombers took advantage of the Indians players on the bench. In the fourth quarter alone, he put up 13 points, seven of which being foul shots. Hosier finished off the game as leading scorer with 17 points.
After an intense and well fought game the Bombers claimed victory over the Indians 45-36. Palmerton keeps the 248 trophy for another year. Next week Palmerton will play another home game on Tuesday December 6th facing Northwestern Lehigh at 6:45 pm. The Lehighton Indians will be opening at home on Monday evening at 6:00 pm against Salem Christian School.