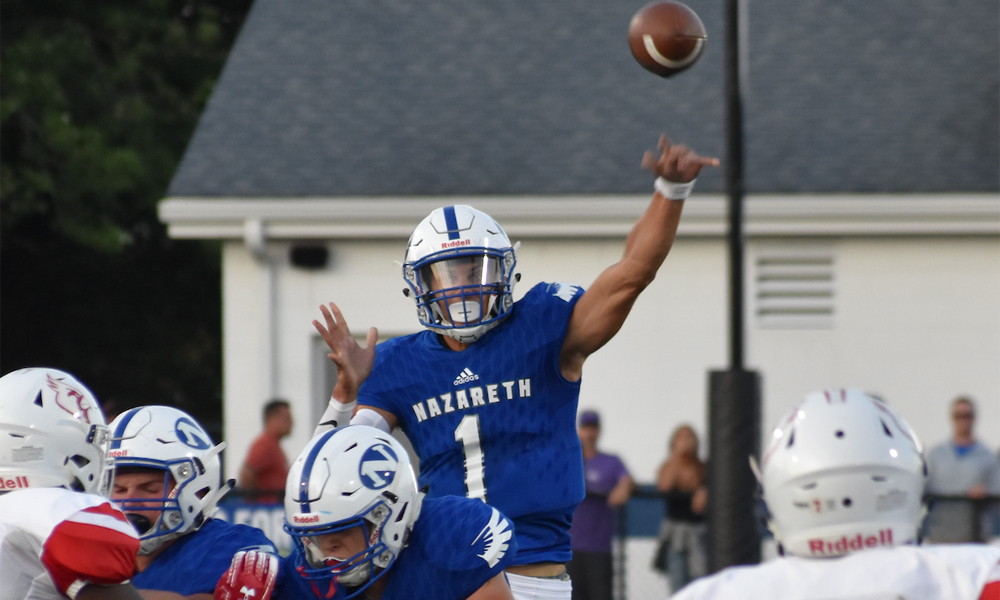 by Duke Helm
RUNNINGBACKS:
Nahjee Adams of Easton rushed for 236 yards and 3 td's in their win over PM West to take the early lead in the District. Brandon Camire of Emmaus rushed for 222 yards and 5 td's in their win over Allen. Christian Arrington of ES South rushed for 213 yards and 3 td's in their win over Whitehall. Brady Miller of Williams Valley rushed for 207 yards and scored 4 td's in their win over Minersville and in the process went over 2,000 yards for his career (2,044). And Isiah Rico of Parkland was the 5th back to rush for over 200 yards when he racked up 204 yards in their win over Northampton. Of those 5 players, only Miller qualifies to be on the chart for now. Tavion Banks of Bethlehem Catholic scored 4 td's in their win over Dieruff and now has 50 career td's. Andrew Sabo of Palmerton went over 1,000 yards rushing for his career with the 100 yards he had vs Palisades (1,061).
QUARTERBACKS:
Brandon Knoblauch of Tamaqua threw for a school-record 337 yards vs Line Mountain. Geoff Kruszek held the old record when he threw for 297 yards vs Marian Catholic in 1991. Sophomore Collin Quintano of Notre Dame threw for 283 yards and 4 td's in their win over Northwestern. In the same game, Deven Bollinger of NW threw for 244 yards and a score to up his career school-record totals to 5,399 yards passing and 63 td passes. Will Fish of ES South threw for 227 yards and 3 td's vs Whitehall. In the same game, Anthony Nanoah of Whitehall threw for 202 yards. Lawson Bray of PM West threw for 213 yards in their loss to Easton. In the same game, Cole Transue of Easton threw for 208 yards and 2 td's. It was Quintano, Fish and Transue's first varsity start. Damon Yost of Pottsville threw for 170 yards and 5 td's in their win over Hazelton. Yost also threw for 5 td's in a game last year. Pottsville's school-record is held by Tony Gomez who threw for 7 td's in a win over Emmaus in 2000. Jared Jenkins of Freedom threw for 194 yards and 4 td's in their win over ES North to go over 5,000 yards for his career. Jenkins has now thrown for 5,116 yards and 50 td passes in his career.
RECEIVERS:
Andrew Darno of Notre Dame caught a school-record tying 10 catches vs Northwestern. He is the 6th player at Notre Dame to catch 10 passes in a game. They include Rob Harper, Josh Jurgensen, Nick Basenese, Danny O'Hare, and David Sanders. Matt Kistler of Tamaqua set 2 new school-records and tied another when he caught 7 passes for 180 yards and 3 td's vs Line Mountain. The 180 yards breaks the single-game record of 167 yards that Vince Boyer had vs Marian Catholic in 1997. His 3 td catches in the game ties the single-game record held by Dustin Vandermartin when he caught 3 vs Shenandoah Valley in 2012. Kistler now has 17 career td catches which breaks the school-record of 16 that Anthony Bumbulsky set from 2007-09. Vincent Reph of Freedom caught 4 passes for 102 yards and 3 td's vs ES North. I will have to check to see if the 3 td catches ties a single-game school record.
2019 single-game highs: ( ) is the week the player accomplished the stat
Single Game Touchdowns (4)
5 (1) Brandon Camire (Emmaus)
4 (1) Tavion Banks (Bethlehem Catholic)
4 (1) Brady Miller (Williams Valley)
4 (1) Asher Smith (Southern Lehigh)
Single Game Rushing Yardage (200)
236 (1) Nahjee Adams (Easton)
222 (1) Brandon Camire (Emmaus)
213 (1) Christian Arrington (ES South)
207 (1) Brady Miller (Willams Valley)
204 (1) Isiah Rico (Parkland)
Single Game Passing Yardage (200)
337 (1) Brandon Knoblauch (Tamaqua) *School Record*
283 (1) Collin Quintano (Notre Dame)
244 (1) Deven Bollinger (Northwestern)
227 (1) Will Fish (ES South)
213 (1) Lawson Bray (PM West)
208 (1) Cole Transue (Easton)
202 (1) Anthony Nanoah (Whitehall)
Single Game TD Passes (4)
5 (1) Damon Yost (Pottsville)
4 (1) Jared Jenkins (Freedom)
4 (1) Collin Quintano (Notre Dame)
Single Game Receptions (10)
10 (1) Andrew Darno (Notre Dame) *Ties School Record*
Single Game Reception Yardage (140)
180 (1) Matt Kistler (Tamaqua) *School Record*
Single Game Reception TD's (3)
3 (1) Matt Kistler (Tamaqua) *Ties School Record*
3 (1) Vincent Reph (Freedom)