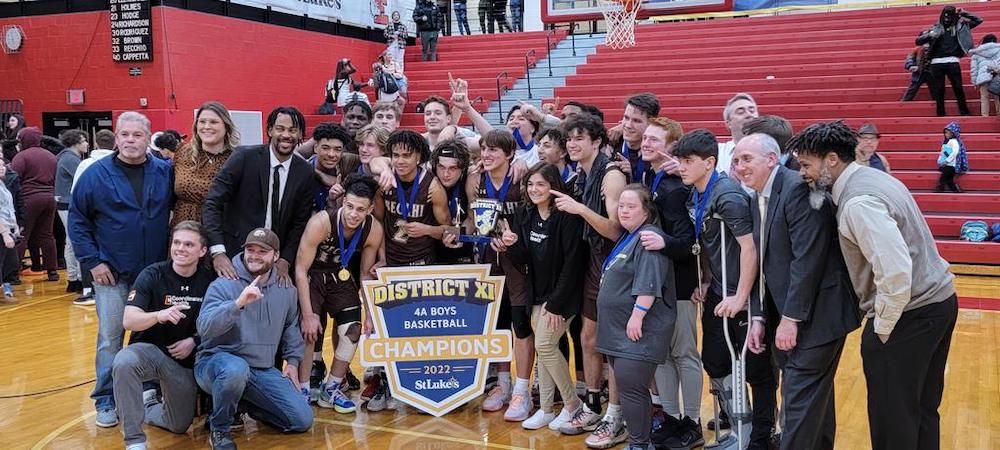 Bethlehem Catholic Overcomes Determined Wilson Warriors
PALMER TWP – Friday night's PIAA District XI 4A championship started inauspiciously for the Bethlehem Catholic Golden Hawks, when Jared Richardson was issued a technical foul for dunking during warmups. With the technical, Golden Hawks coach Scott McClary should have been forced to sit the entire first half, but the situation was not clarified till half and McClary sat the rest of the contest.
His squad had to overcome a 22-13 deficit in the first half to a spirited Wilson Area effort. Bethlehem Catholic capture their fourth PIAA District XI 4A championship in six years Friday night at Easton Area Middle School 47-42.
Behind the stellar play of Edixon Gomez, Alex Cerrado and Steve Recchio, the Hawks staved off a determined Warrior team seeking their first district title. Recchio set the tone for the comeback with a steal and a layup. Gomez scored the next five points with a layup and a three point basket from the corner to tie the score at 22 as both teams headed to the locker room.
"We had some difficulties with their zone in the first half. They frustrated us and we played tight, but that run was crucial and helped us to settle down," McClary stated.
In the third quarter both teams only combined for thirteen points as Bethlehem Catholic held a 29-28 lead heading into the final eight minutes. The Golden Hawks finally got some separation with a 7-0 run with baskets by Cerrado, Gomez and Ryan Glassmacher to take a 36-28 lead with six minutes left. Cerrado finished with 17 points, 10 of which came in the fourth quarter and Gomez added 15 for his efforts.
Wilson showed no signs of going away as they cut the lead to 41-38. Na'shawn Jones had a triple and Shamel Gibson a layup with three minutes left. Jones led the Warriors with 20 points. Gibson added 12 points.
The Warriors had a chance to tie the game but Alex Cercado made a steal and scored. Cercado connected on four free throws in the closing moments to seal the deal.
Both teams now advance to the State Championship playoffs as the Golden Hawks will face fourth seed Southern out of the Philadelphia Public League(District 12)Tuesday at a site and time to be announced.
Wilson will see Cardinal O'Hara out of the Philadelphia Catholic League, the third seed. Joining them will be Allentown Central Catholic, who defeated North Schuylkill 65-15 in the consolation game.