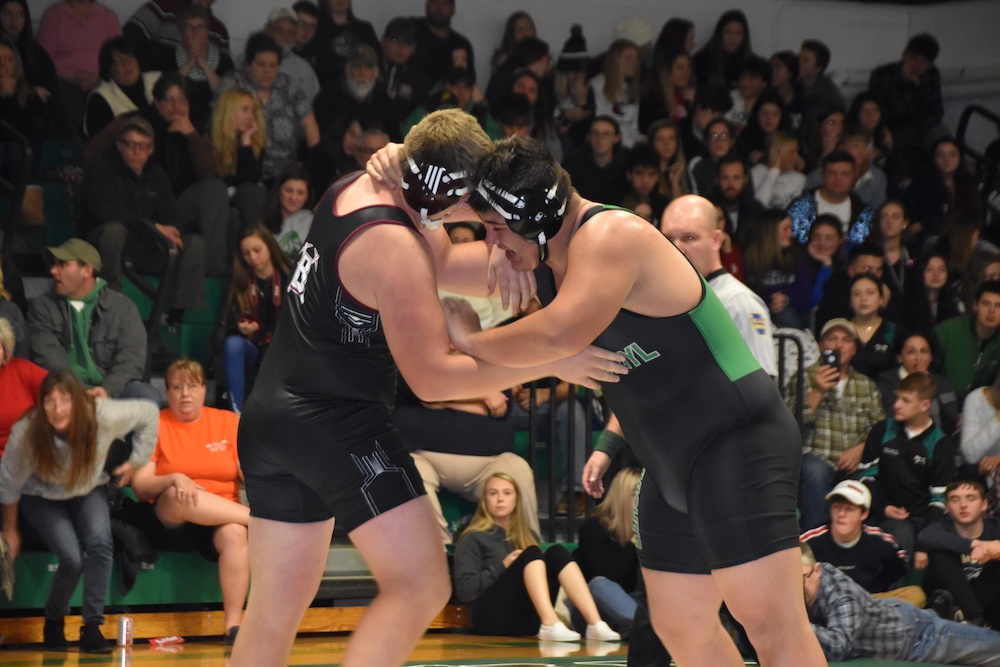 The Slaters were pumped and ready to rally on Wednesday night as they geared up to face their rivals, the Pen Argyl Green Knights on the mat. Rivalry games are always intense not only for the athletes and coaches, but also for all those spectating the event. The Pen Argyl gymnasium was filled to the brim with supporters from both the maroon and green. The Slaters were ready to rumble and defend their title since they had not lost a match to Pen Argyl since 2016.
Kicking off the match was Bangor's Allen Klaver against Pen Argyl's Lorenzo Reto wrestling in the 138 weight class. Reto finished his round with a win for the Knights. Jack Reismiller (145), Dylan Ashenfelder (152) and Gannon Brinker (160), all of Pen Argyl, won their matches to bring the Knights to the lead with a score of 17-0. In the 170 weight class, the Slaters started to battle back with some force from Gavin Sandt and then Jared Reto (182). The Slaters were starting to make a comeback, yet still trailing with a score of 17-12.
Showing no mercy, the Knights then followed the Slaters two victories with another four of their own from Dakota Grahm (195), Aiden Compton (220), Sean Ramsey (285), and George Pultz (106). This brought the score to 33-12.
Bangor's Landon Uhler had a pin and Liam Horne win by forfeit, brought the score to 33-24 as those were the Slater's final points scored. The match finished with a final score of Pen Argyl 40 and Bangor 24. At the end of the match, the Doug Communale award was received by Pen Argyl's George Pultz. It was a series of tough fought matches from both opposing sides as the rivalry continued to build as it has for the last 100 years.