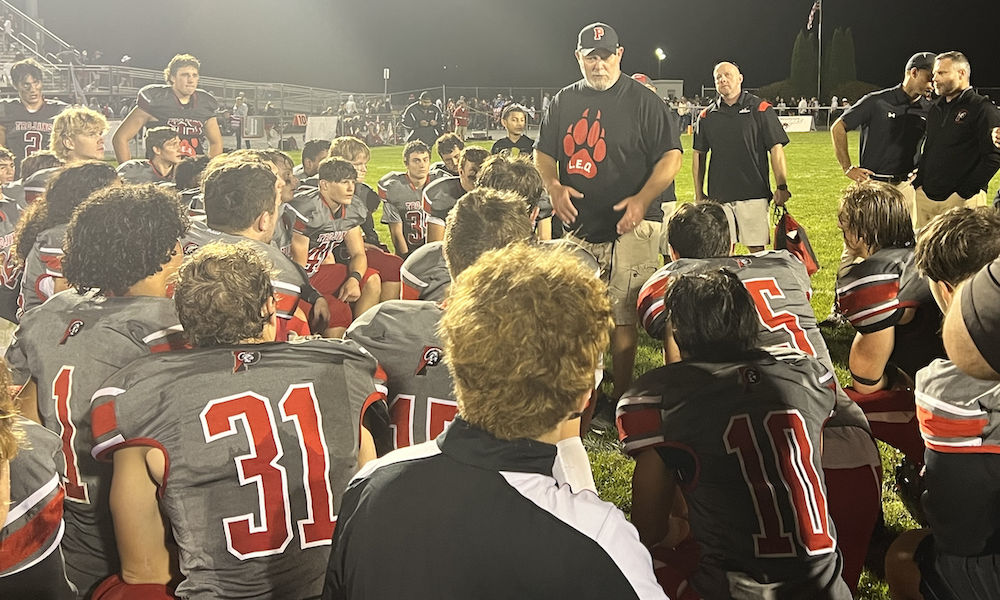 OREFIELD – Not many games live up to the hype, but this one did. Two of the top teams in the EPC South went head-to-head Friday night in front of a packed crowd. It was Nazareth Area (3-1) vs. Parkland (4-0) in an early showdown.
The stars came out to shine last night, but no bigger star than Trey Tremba. The Parkland senior rushed for 269 yards. He also caught the go-ahead touchdown pass with 1:22 left in the game to lead the Trojans to a 31-24 win over Nazareth Area.
"It was a heck of a football game tonight," said Tremba. "I can't say enough about how good my line did tonight. They opened up a lot of holes tonight. "
In the first half, it was the Tremba show. Trey scored on a four-yard touchdown run and a pair of 33-yard runs. Aidan Gallagher added a 28-yard field goal in the first quarter and the Trojans went into halftime leading 24-10.
But the Blue Eagles made adjustments at halftime. One of the key changes made was moving Sean Kinney in the middle to slow down the Trojans' offense in the second half. It worked. After a sluggish start in the first half, the Blue Eagles' offense got going.
Quarterback Peyton Falzone connected on two touchdown throws of 19 and 59 yards to Caleb Newsome to tie the game up at 24 with 11:18 remaining in the game.
The biggest play of the game came with 1:22 remaining in the game. Parkland quarterback Luke Spang threw a pass while falling to the ground to Tremba. He did the rest and went 39 yards for the game-winning touchdown.
"Spang made a great throw in finding me," said Tremba. "I didn't think I was going to get it but I did and the rest is history."
Spang finished the night completing 10 of 16 passes for 139 yards.
NAZARETH NOTES: Nazareth Area's record is now 3-1. Falzone finished the night passing for 246 yards and two touchdowns. Jed Benedekovits rushed for 103 yards. Caleb Newsome caught five passes for 112 yards. The Blue Eagles travel to play Liberty next Friday night.
PARKLAND NOTES: Parkland remains undefeated at 4-0. The Trojans are on the road next weekend and will face another unbeaten team. This time Central Catholic (4-0).
Scoring Summary
| | | | | | |
| --- | --- | --- | --- | --- | --- |
| Final | 1st | 2nd | 3rd | 4th | T |
| Nazareth Area | 3 | 7 | 7 | 7 | 24 |
| Parkland | 10 | 14 | 0 | 7 | 31 |
1st Quarter
P: Trey Tremba 33-yard run (Aidan Gallagher kick) 9:56
P: Aidan Gallagher 28 field goal 6:50
N: Nathan Baker 22 field goal 0:25
2nd Quarter
P: Trey Tremba 4-yard run (kick failed) 9:32
N: Jed Bendekovits 30 yard run (Nathan Baker kick) 9:01
P: Trey Tremba 33 yard run (Marcel Burden pass from Satoshi Rosenblum) 7:55
3rd Quarter
N: Caleb Newsome 19-yard pass from Peyton Falzone (Nathan Baker kick) 1:17
4th Quarter
N: Caleb Newsome 59-yard pass from Peyton Falzone (Nathan Baker kick) 11:18
P: Trey Tremba 39-yard pass from Luke Spang (Aidan Gallagher kick) 1:22