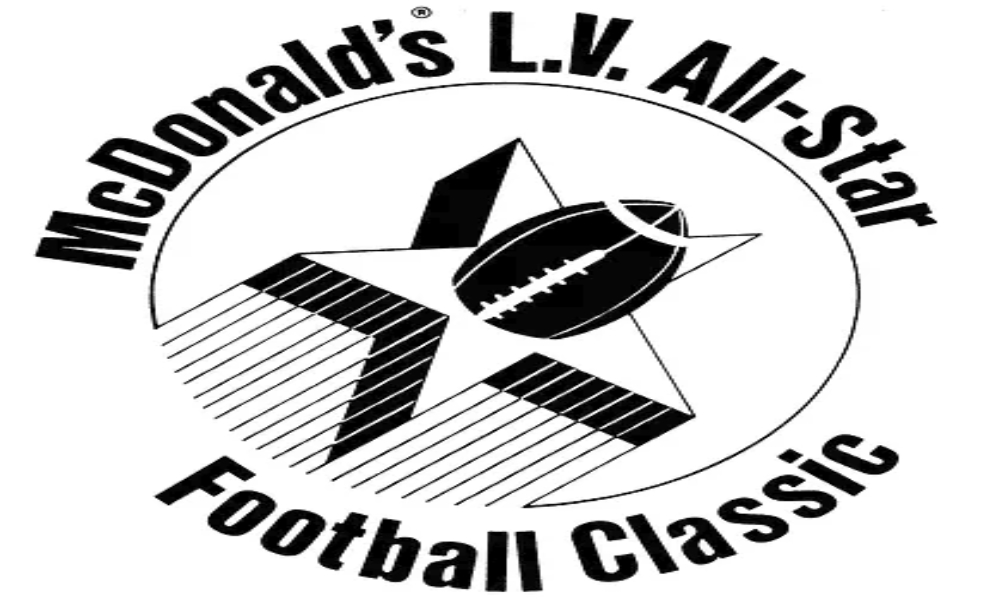 McDonald's® Lehigh Valley
All-Star Football Classic
The 52nd annual Lehigh Valley All-Star Football Classic is on
Thursday, June 15, 2023
, at
Nazareth Area High School
. A press conference for the media will be held this Sunday, June 4at 12:15 pm at Andrew S. Leh Stadium at Nazareth High School. All writers, reporters, photographers, and video crews are welcome. Players and coaches will be available for interviews.
This year, the Red Squad [Lehigh, Carbon, Monroe Counties], coached by Jim McCarroll[Pocono Mountain West] takes on the Gold Squad [Northampton County, Phillipsburg, Palisades], coached by Paul Reduzzi [Bangor]. This year, the game will feature Senior Cheerleaders from across the Lehigh Valley.
This year's Honorary Captain is former Parkland High School All-State standout and current New York Jets tight end Kenny Yeboah. He will join the Red and Gold Team Captains on the 50-yard line for the coin toss. The Lehigh Valley Harmonizers will honor America with the singing of the National Anthem, then the game kicks off at 7:30 pm.
All tickets for the game are $10.00. Fans can purchase tickets in advance
HERE
or at the gate on game night. All proceeds from the game will be donated to the
Ronald McDonald House Charities
. To make a donation, please click
HERE
.
About the Lehigh Valley All-Star Football Classic: The McDonald's Lehigh Valley All-Star Football Classic enters its 51st year in 2022. In its post-pandemic return, the game raised $20,000 for the Ronald McDonald House Charities last year. Each year, the game features the top talent from the Lehigh Valley area high schools and is considered one of the country's best high school football all-star games. Notable alumni of the game include Matt Millen (Whitehall, Penn State, Oakland Raiders/San Francisco 49ers), Andre Reed (Dieruff, Kutztown, Buffalo Bills), Gregory A. Delong (Parkland, North Carolina, Minnesota Vikings), and Noel LaMontagne (Southern Lehigh, Virginia, Cleveland Browns), and Justin Morabito (Bethlehem Catholic, Stanford) among many others.
About St. Luke's Orthopedic Care: St. Luke's Orthopedic Care implements a collaborative program that joins together orthopedics, sports medicine, rheumatology, physical therapy, and sports performance to determine the best course of action for each and every patient. The collaborative treatment effort is extraordinary care in motion. The orthopedic surgeons and staff at St. Luke's provide the most advanced diagnosis, treatment, and rehabilitation for patients with a wide variety of musculoskeletal disorders and injuries. St. Luke's Orthopedic Care is committed to providing outstanding quality care with a patient-centered approach. Each physician has extensive experience and specialized training to diagnose and treat various orthopedic conditions.
About Kenny Ye

boah: Kenny Yeboah graduated from Parkland High School in 2016. As a senior at Parkland, he hauled in 72 catches for 1,160 receiving yards and 14 touchdowns and was an All-State selection. He played college football at Temple University from 2016 to 2019, before transferring to the University of Mississippi (Ole Miss) for his senior season. At Ole Miss, he caught 27 balls for 524 yards and 6 touchdowns. On October 20, 2020, against Alabama, he caught 7 passes for 2 touchdowns and set a school record for most receiving yards in a game by a tight end with 181 yards. In 2021, Yeboah inked a deal with the New York Jets as an undrafted free agent. He made his NFL debut on October 9 against the Atlanta Falcons. On January 2, 2022, he caught 2 passes for 36 yards against the Tampa Bay Buccaneers.