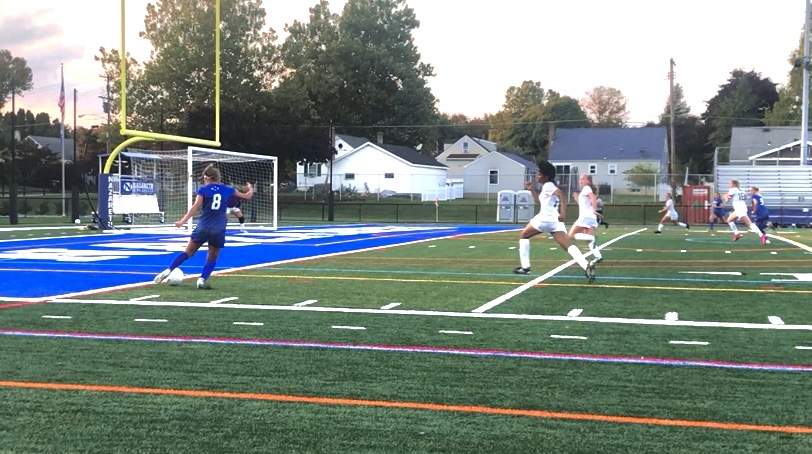 The Nazareth girls' soccer team had an amazing senior night on Monday, September 28th. They played their second game against the Lady Canes soccer team of Liberty High School. It ended in a shutout with the Blue Eagles scoring eight goals. The first half started with a bang as Nazareth's Abby James and Anita Vera each scored a goal in the first ten minutes. However, the Canes defense held them off for the rest of the half, which held the score at 2-0
The second half was even better for the Lady Blue Eagles as the Canes struggled to keep them contained. The first to score was sophomore Kylee James assisted by her sister Abby James with 38 minutes left in the half. Five minutes later, Nazareth made another impressive goal bringing the score up to 4-0. They didn't stop there though, as the Canes defense stopped countless shots on goal, Abby James scored once again with an assist from her teammate, Hayden Berner.
The Canes were able to work the ball up the field, giving them one shot on goal, however, this was quickly blocked by Nazareth goalkeeper Rylee Abt. Just when you thought the Blue Eagles couldn't do any better, junior, Kayley Hynes put a beautiful shot in the back of the net. This brought the score to 6-0.
Time was running out, but the Blue Eagles continued to make the most of what they had left. Mikella Mooney hit the net with 13 minutes remaining. However, the best was saved for last. With six minutes left in the game, Melissa Patton made a cross in the air. Mikella Mooney was there to bring it in with an amazing header to end the game. The final score was 8-0.
It's looking like this will be another impressive season for the Nazareth girls' soccer team. The Lady Canes played some great defense, but unfortunately, it was no match for Nazareth's powerhouse offense.