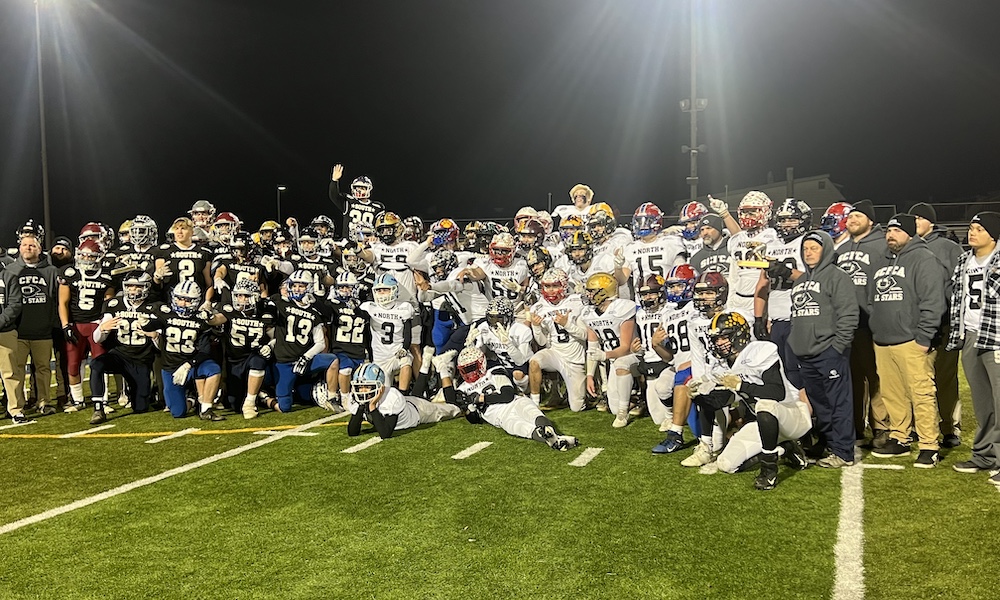 The North All Stars proved up to the task at Schuylkill Haven Rotary Field. In a back and forth showdown, the North topped the south by a score of 34-28. North Schuylkill player Jared Tinari was named the MVP of the North team, while Williams Valley athlete Brady Evans was the MVP of the South squad.
The South opened up the scoring as Kole Miller connected with Brady Evans on a 31-yard touchdown pass early in the first quarter.
Later in the first, the south drove the length of the field and capped the drive with a quarterback sneak from Mason Kroh.
In the second quarter, the North began to pick up some momentum with Jared Tinari scoring a physical touchdown. The South responded almost instantly as Amaree Bainbridge took the kickoff back 83 yards for a score.
Not to be out done, David Fiorito took the ensuing kickoff back 77 yards to put the pressure back on the South.
The North got a defensive stop and regained possession. After driving down the field, big man Robbie Weitz rumbled into the end zone and tied the game at 21. That score would hold until the half.
The South used the valley connection again as Kole Miller connected with Brady Evans for their second touchdown of the day.
The North used great field position after a short punt to equalize. Jared Tinari ran it in for his second touchdown of the day.
The score stayed deadlocked until the fourth quarter, when Ben Manley connected with Jack Dean for the game winning score.
The North got a huge defensive stop, and Robbie Weitz picked up the first down to ice the game.
On the second play of the half, Kole Miller connects with Brady Evans for their second touchdown of the night. Score South-28 North-21. @D11Sports @TVAthleticDept @WmsValleyAthl pic.twitter.com/nZMzVCQFYk

— Luke Stefanisko (@LukeStefanisko) November 24, 2022
The North turns good field positioning into points as Jared Tinari scampers in from 6 yards. Score tied at 28. @D11Sports @NSAthletics1 @tinari_jared pic.twitter.com/FADQUFs9mB

— Luke Stefanisko (@LukeStefanisko) November 24, 2022
Robbie Weitz plows it in for the score. The North equalizes the score now tied at 21. @D11Sports @NSAthletics1 @robbie_weitz pic.twitter.com/eg9ciQjgL9

— Luke Stefanisko (@LukeStefanisko) November 24, 2022
After an early North turnover,Brady Evans hauls in a 31 yard td reception. South takes the lead 7-0. @D11Sports pic.twitter.com/qc0JKG04AM

— Luke Stefanisko (@LukeStefanisko) November 24, 2022
After a North 3 and out. The south drives down the field and finishes with a sneak by Mason Kroh. Score South-14 North-0. @PGA_Athletics @D11Sports pic.twitter.com/l0ml11O4Lj

— Luke Stefanisko (@LukeStefanisko) November 24, 2022