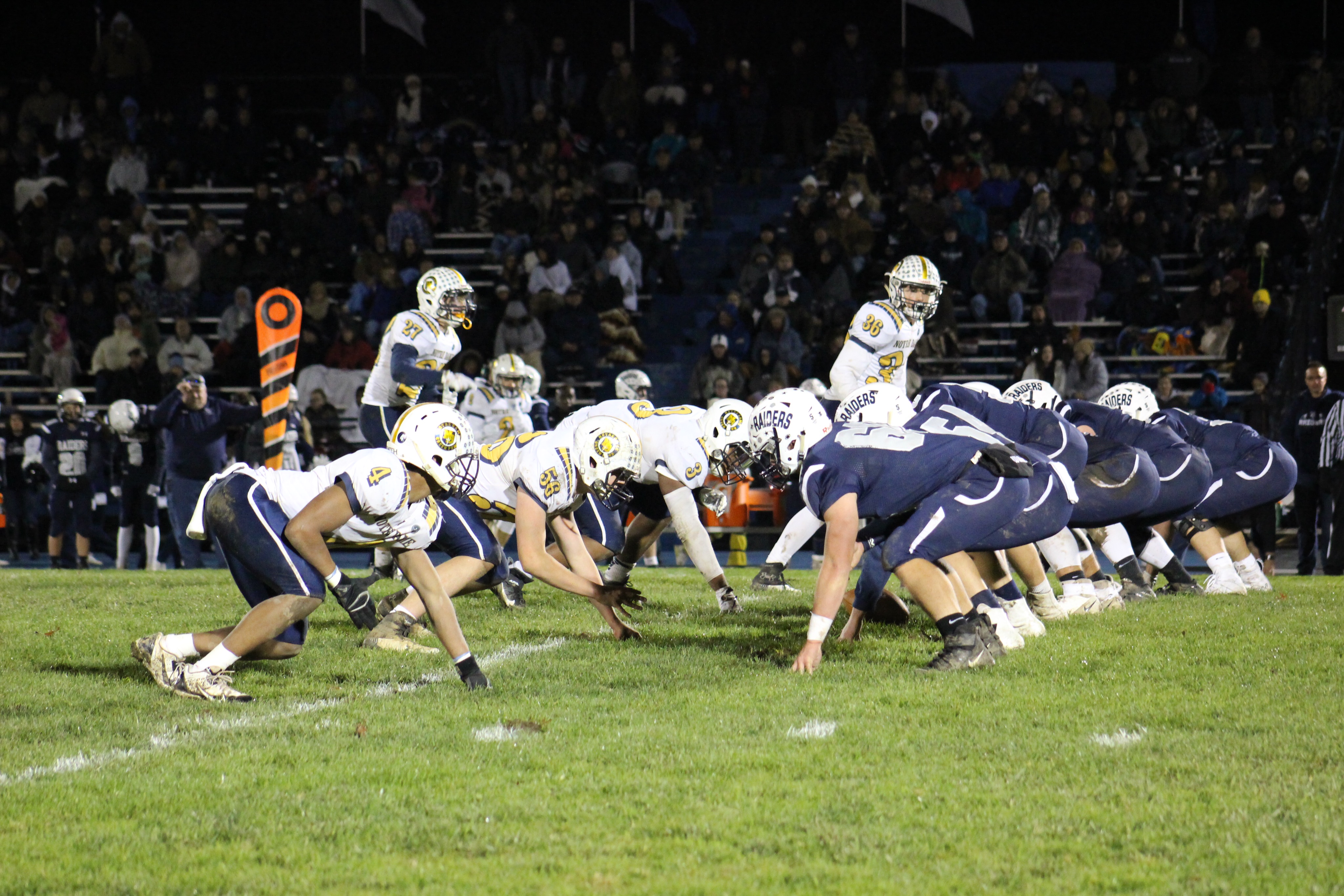 The first round of the District 11 3A playoffs was great. Tamaqua ran all over Notre Dame with the final score being 49-28.
The game was back and forth all night with both teams trading touchdowns each possession. At the end of the first half, the Crusaders were up 13-14.
Fourth Quarter is where all the action happened. Start of the fourth the score was 28-28, but in the fourth quarter Tamaqua went ahead and scored three unanswered touchdowns.
The Crusaders were stopped each possession. With his team down 42-28 and trying to make a comeback, Collin Quintano threw an interception caught by Nate Boyle. The Blue Raiders went ahead and scored on the drive making the score 49-28.
Nate Boyle was unstoppable scoring six touchdowns and rushing for 391 yards. Next up for the Blue Raiders will be top seeded North Schuylkill.
IT'S GAME TIME ‼️‼️. @D11Sports @NDGP_FB @crusaders_nd pic.twitter.com/Hi0FIFNiNy

— Elijah A. Rivera (@ElijahARivera1) November 1, 2019
FIRST DOWN‼️ pic.twitter.com/m36MBwQB1n

— Elijah A. Rivera (@ElijahARivera1) November 1, 2019
Pass complete to @ajd_12 FIRST DOWN FOR THE CRUSADERS‼️ pic.twitter.com/VJvK1Lm004

— Elijah A. Rivera (@ElijahARivera1) November 1, 2019
The First touchdown of the game goes to @NDGP_FB by @Greggo21Greggo. Extra point is good, 7-0 pic.twitter.com/orMWJweiJv

— Elijah A. Rivera (@ElijahARivera1) November 1, 2019
End of the 1st Quarter. @NDGP_FB 7. @TASDAthletics1 0. pic.twitter.com/3fY0qMJ8PG

— Elijah A. Rivera (@ElijahARivera1) November 1, 2019
Nate Boyle with his 2nd TD of the Quarter. Extra point is good. @TASDAthletics1 13. @NDGP_FB 7. pic.twitter.com/W4UJCy6FCH

— Elijah A. Rivera (@ElijahARivera1) November 1, 2019
Nate Boyle for the first down. Ball on their own 49 yard line. pic.twitter.com/2XXPSuF8dY

— Elijah A. Rivera (@ElijahARivera1) November 1, 2019
FUMBLE RECOVERED BY THE CRUSADERS‼️ pic.twitter.com/3W1EqULWsC

— Elijah A. Rivera (@ElijahARivera1) November 2, 2019
Christian Greggo, @NDGP_FB, TOUCHDOWN‼️. Extra Point is good, @TASDAthletics1 13. @NDGP_FB 14. pic.twitter.com/CECaUrFhlS

— Elijah A. Rivera (@ElijahARivera1) November 2, 2019
End of the First half. @TASDAthletics1 13. @NDGP_FB 14. pic.twitter.com/YQOAxOlUwi

— Elijah A. Rivera (@ElijahARivera1) November 2, 2019
The Blue Raiders will receive the second half kickoff. pic.twitter.com/nNDbCgiEdB

— Elijah A. Rivera (@ElijahARivera1) November 2, 2019
2-point conversion is good. @TASDAthletics1 21. @NDGP_FB 14. pic.twitter.com/n7B8gIi5lO

— Elijah A. Rivera (@ElijahARivera1) November 2, 2019
TOUCHDOWN CRUSADERS‼️‼️‼️. Extra points is good, @TASDAthletics1 21. @NDGP_FB 21. pic.twitter.com/3PQOHGRJRG

— Elijah A. Rivera (@ElijahARivera1) November 2, 2019
Nate Boyle for the 1st down. pic.twitter.com/7GteyqDY2d

— Elijah A. Rivera (@ElijahARivera1) November 2, 2019
Nate Boyle, @TASDAthletics1, is on fire. pic.twitter.com/RMVsRQRUrc

— Elijah A. Rivera (@ElijahARivera1) November 2, 2019
Nate Boyle, @TASDAthletics1, TOUCHDOWN‼️ Extra point is good, @TASDAthletics1 28. @NDGP_FB 21. pic.twitter.com/tWAAjuujgs

— Elijah A. Rivera (@ElijahARivera1) November 2, 2019
FIRST DOWN CRUSADERS‼️ pic.twitter.com/8mOi7LJsfE

— Elijah A. Rivera (@ElijahARivera1) November 2, 2019
TOUCHDOWN @TASDAthletics1. Extra point is good. @TASDAthletics1 35. @NDGP_FB 28. 10:04 remaining in the 4th Quarter ?. pic.twitter.com/SpvWbU4Myv

— Elijah A. Rivera (@ElijahARivera1) November 2, 2019
NATE BOYLE, @TASDAthletics1. 4:40 remaining in the 4th quarter. pic.twitter.com/qod5SKjjSn

— Elijah A. Rivera (@ElijahARivera1) November 2, 2019
Nate Boyle punches it in for a Tamaqua Touchdown. Extra point is good. @TASDAthletics1 42. @NDGP_FB 28. pic.twitter.com/dPVlaohaDY

— Elijah A. Rivera (@ElijahARivera1) November 2, 2019
Touchdown @TASDAthletics1, extra point is good. @TASDAthletics1 49. @NDGP_FB 28. pic.twitter.com/r86SYgSjL2

— Elijah A. Rivera (@ElijahARivera1) November 2, 2019
Final Score: @TASDAthletics1 49. @NDGP_FB 28. @D11Sports pic.twitter.com/04GFrNFKdU

— Elijah A. Rivera (@ElijahARivera1) November 2, 2019