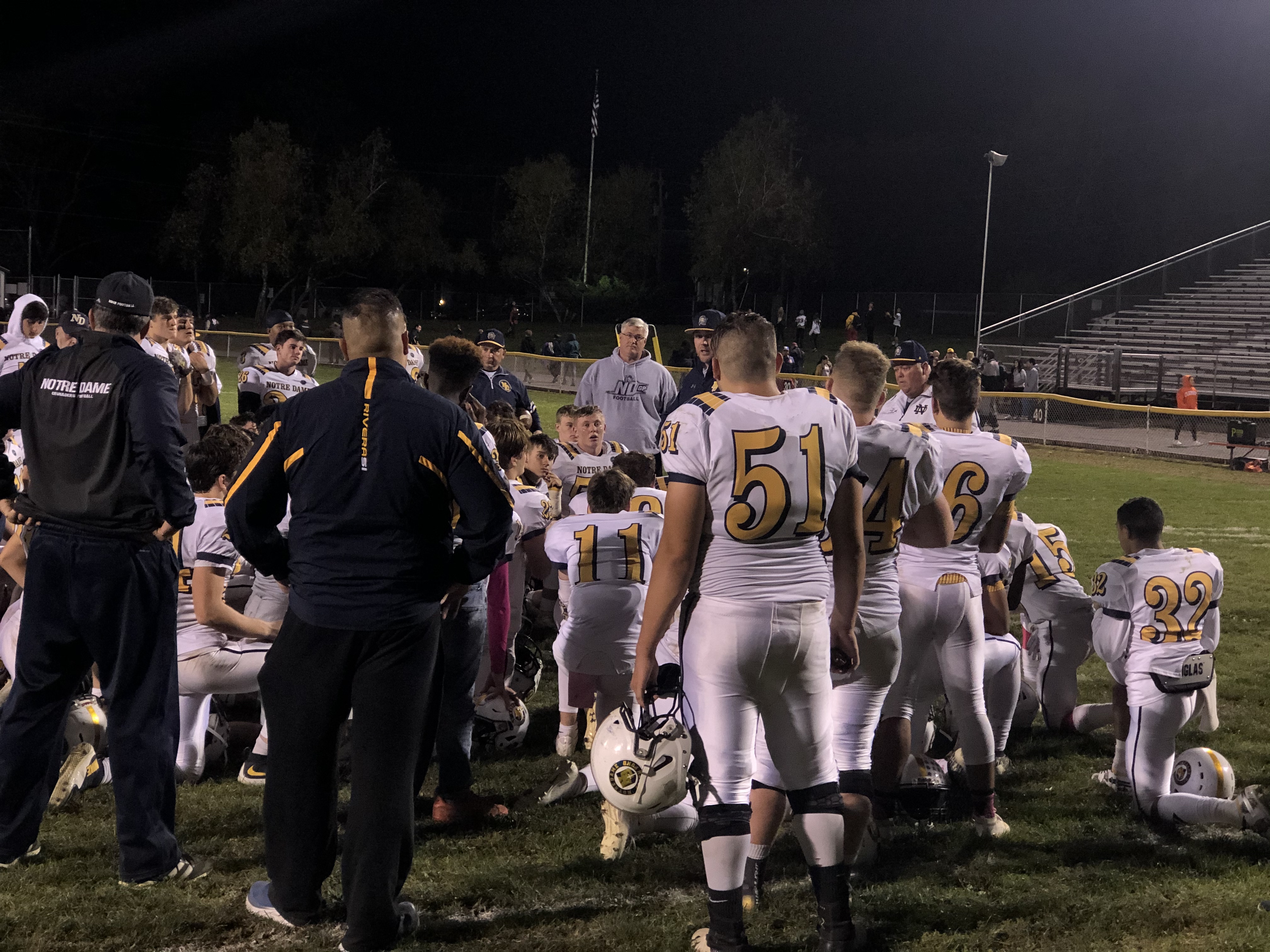 The Crusaders traveled to Catasauqua and shut them out 42-0.
The Crusaders came into this game with the record of (5-2) with the Rough Riders record being (0-7).
The Rough Riders received the opening kickoff, but did nothing with it. The Rough Riders barely moved the ball as the Crusaders defense was too much for them. On the first drive for the Crusaders, they drove all the way down to the five-yard line. Matt Frauen Jr. ran it in for a five-yard touchdown to make the score 7-0.
The Rough Riders got the ball back, but couldn't do anything with the ball. The Crusaders defense played great as they allowed zero points in this one.
This game had the Crusaders name written all over it and the score speaks for itself. Andrew Darno played great last week and he did it again throwing three touchdown passes and two of them were in the second quarter. Darno threw his first touchdown pass to Joe Galle for 26 yards. The next time out, he threw another touchdown pass that was tipped in the air to Christian Greggo for 15 yards. At the end of the first half, Notre Dame was in the lead 21-0.
The Crusaders came out in the second half with the same energy they had in the first half. The Crusaders got down to the eight-yard line where Frauen Jr took it into the end zone for an eight-yard touchdown run. The score was 28-0. Nothing changed for the Rough Riders in the second half. The next time out for the Crusaders, they moved the ball easily and Darno finished the drive with a seven-yard touchdown pass to Christian Greggo putting the Crusaders up 35-0.
In the fourth quarter, the Crusaders put their backups in and they did great. On their last drive Nadir Sanders caught a one-yard touchdown pass putting the Crusaders up 42-0.
Andrew Darno, Christian Greggo, and Matt Frauen Jr. were the key players in the Crusaders win on Friday night. Andrew Darno finished with 207 yards, three TDs, and completed 13/14 passes. Darno also played receiver for a little bit and had one reception for 26 yards. Christian Greggo had five receptions for 59 yards and two touchdowns. Matt Frauen Jr. had a great night carrying the ball seven times for 122 yards and two touchdowns.
Other key players in the Crusaders win were Izzy Rodriguez who had three receptions for 45 yards and Joe Galle who had three receptions for 49 yards and one touchdown.
Notre Dame Green Pond's record now sits at (6-2) as they are currently ranked number three in the Colonial League Standings.
Their matchup next week will be at Saucon Valley where they look to keep their winning streak alive.
‼️‼️FRIDAY NIGHT LIGHTS‼️‼️come out to watch @notredamegp @crusaders_nd (5-2) take on @CHSRoughRiders (0-7) @ 7:00pm at Catasauqua High School. THEME FOR ND: PJS ‼️ Don't miss out ! ?‼️ @D11Sports pic.twitter.com/NEOud1Qz1N

— Elijah A. Rivera (@ElijahARivera1) October 11, 2019
1st down for @CHSRoughRiders ! pic.twitter.com/AKVg9xLBej

— Elijah A. Rivera (@ElijahARivera1) October 11, 2019
End of 1 @notredamegp 7 @CHSRoughRiders 0. 3 & 11 for @CHSRoughRiders with the ball on the 28 yard line to start the 2nd quarter pic.twitter.com/IqgOz9M3NB

— Elijah A. Rivera (@ElijahARivera1) October 11, 2019
FUMBLE ON THE PLAY! @notredamegp recovers it. 1st down ball on the 20 yard line pic.twitter.com/8eV6k8lRMl

— Elijah A. Rivera (@ElijahARivera1) October 11, 2019
Pass is complete to Derrick George for @CHSRoughRiders 1st down & 10 to go. pic.twitter.com/PUXvDxmJiY

— Elijah A. Rivera (@ElijahARivera1) October 11, 2019
FUMBLE ON THE PLAY ‼️ @notredamegp recovers it. 1st down pic.twitter.com/YczfvSAmxx

— Elijah A. Rivera (@ElijahARivera1) October 11, 2019
Great punt by @nickgarrido_15 pic.twitter.com/gIkfoIyQWv

— Elijah A. Rivera (@ElijahARivera1) October 11, 2019
Number 21 for @CHSRoughRiders takes it to the 13 yard line. 1st & 10 pic.twitter.com/k5uoKBWsII

— Elijah A. Rivera (@ElijahARivera1) October 12, 2019
And that's the end of the First half @NDGP_FB 21 @CHSRoughRiders 0 pic.twitter.com/yOB9AExlYU

— Elijah A. Rivera (@ElijahARivera1) October 12, 2019
Pass complete to @ajd_12 as he puts some moves on the defense pic.twitter.com/Z3RJTUp82R

— Elijah A. Rivera (@ElijahARivera1) October 12, 2019
End of 3 @NDGP_FB 35 @CHSRoughRiders 0 pic.twitter.com/TLS4YH5Wq3

— Elijah A. Rivera (@ElijahARivera1) October 12, 2019
Pass complete to @izzyrod32 at the 1 yard line ? pic.twitter.com/943ZTzS7nv

— Elijah A. Rivera (@ElijahARivera1) October 12, 2019
Touchdown complete to Nadir Sanders for @NDGP_FB touchdown, Extra point is good 42-0 pic.twitter.com/is7Qhd5Xe3

— Elijah A. Rivera (@ElijahARivera1) October 12, 2019
Final score: @NDGP_FB 42 @CHSRoughRiders 0 @D11Sports pic.twitter.com/PtVf1zqjT9

— Elijah A. Rivera (@ElijahARivera1) October 12, 2019
Post Game interview with @NDGP_FB Head Football Coach @philipstambaugh @D11Sports pic.twitter.com/y7xLJojWaz

— Elijah A. Rivera (@ElijahARivera1) October 12, 2019