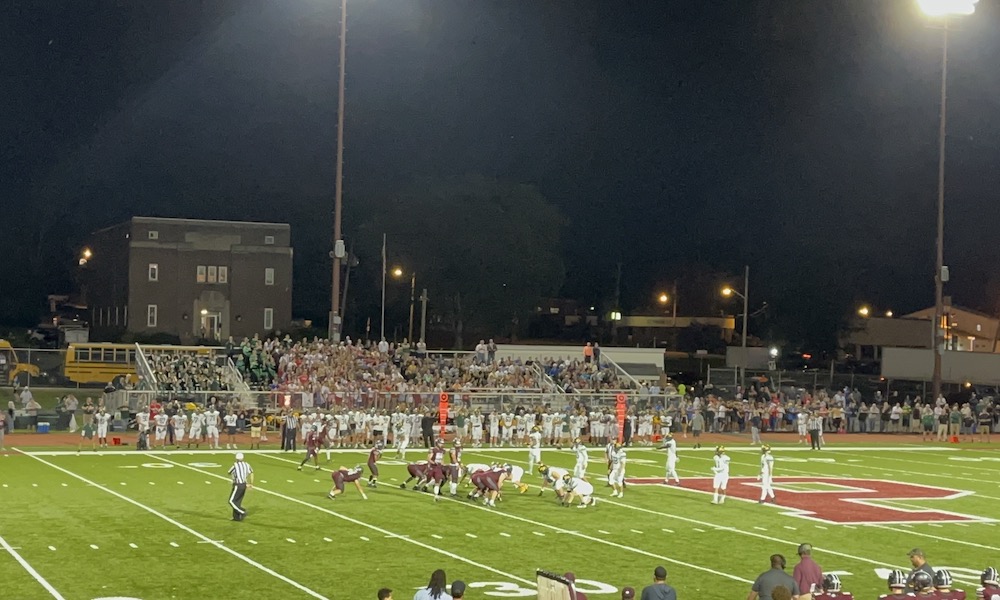 Friday night, Phillipsburg hosted their first home game of the season. The student section dressed in tropical attire and packed the bleachers full. Going into Friday night's game, P'Burg was 2-0 and North Hunterdon was 3-0.
Starting the game strong, P'Burg's sophomore quarterback Jett Genovese threw a 36-yard-pass to Kevin Burgess, bringing P'Burg to the three-yard-line. Phillipsburg senior Xavier Moore had a two-yard run, bringing the Liners to the one-yard-line. Genovese put the game's first points on the board with a quarterback sneak. The extra point attempt was no good. The Liners took the early lead on North 6-0.
On North's next possession, P'Burg's Kevin Burgess picked off North's pass. Shortly after, P'Burg found themselves in a scoring position. Genovese completed a pass to Sophomore Matthew Scerbo. This set up the Liners to first and goal. Xavier Moore ran the ball to the one-yard-line, advancing the Liners. Caleb Rivera then scored the touchdown for Phillipsburg. Luke Brogan secured the extra point for P'Burg, making the score 13-0.
North Hunterdon put their first points on the board in the second quarter when quarterback Luke Martini completed a 60-yard-pass to Alex Uryniak. North's kicker, Ben Cleary successfully kicked the extra point, making the score 13-7.
Moments before half-time, a six-yard-pass to Matthew Scerbo put more points on the board for the Liners. This was his first career touchdown. After the extra point, P'Burg led 20-7, going into the third quarter.
On the kickoff to begin the third quarter, P'Burg's Cameron Bohal returned the kick for 67 yards. This set up a touchdown by Xavier Moore. After the extra point, P'Burg led North 27-7.
On the next possession, North's Uryaniak ran for his second touchdown of the night. North then trailed 27-14.
North continued to fight back when Kente Edwards ran the ball 28 yards, adding more points to the board. This helped North catch up to the Liners, although P'Burg still led 27-21. This drive covered 85 yards in six plays.
At the beginning of the fourth quarter, Phillipsburg found themselves in a scoring position yet again. Junior John Wargo had a 13-yard run, adding to P'Burg's lead. After the extra point, Phillipsburg led 34-21.
Phillipsburg scored twice more before the end of the game. Caleb Rivera had a successful 48-yard run to advance P'Burg's lead 41-21. To finish off the game, Wargo had a 53-yard run, scoring for P'Burg one last time. Phillipsburg dominated North 48-21.
Friday night's game was an important victory for P'Burg. Their record going into next week's game against the unbeaten Hillsborough is 3-0. The matchup will begin at 7PM at Malony Stadium.