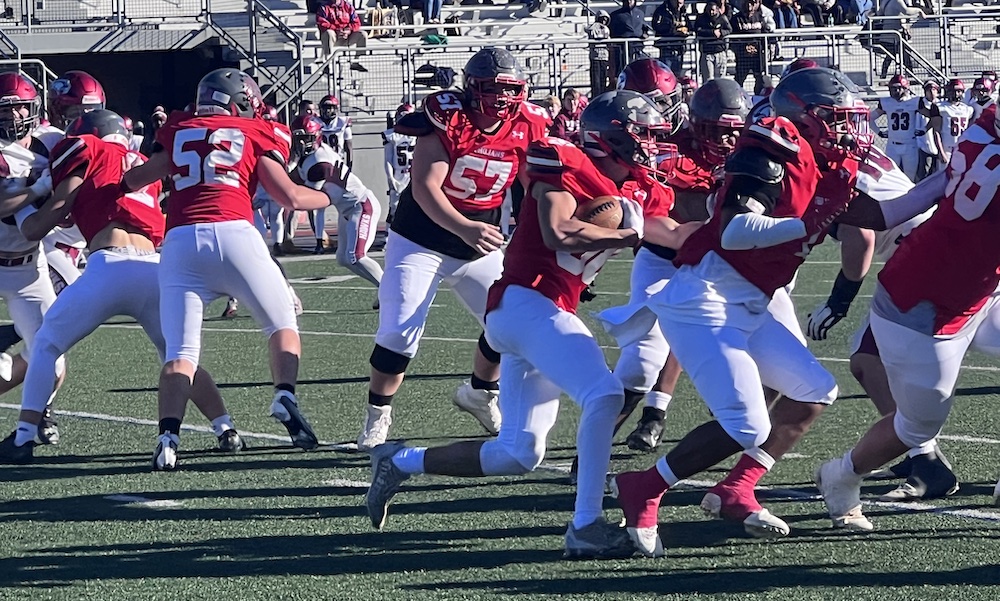 BETHLEHEM – The Prep offense was unstoppable in the first half scoring on seven consecutive possessions. Samaj Jones led Prep's attack today scoring four touchdowns (two touchdowns and two passing) in a 52-12 win Saturday afternoon in a PIAA Class 6A quarterfinal game at BASD Stadium. 
With the win, Prep faces Garnet Valley out of District 1, who defeated Central Bucks West 35-7. 
The first quarter was back-and-forth on the first four drives. Prep's running back Erik Sanchez scored on a 42-yard run followed by a Gryffin Mitstifer 39-yard field goal. It was 7-3 St. Joseph's Prep with 7:37 left in the first quarter.
Jones answered on the next drive scoring from 12 yards out. The Trojans moved the ball again but settled for a field goal attempt. Mitstfifer hit a 41-yard field goal with 2:03 left in the first quarter and the score was 14-6 Prep. 
"Defensively we let them move the ball down the field a lot in the first half," said Head Football Coach Tim Roken. "We were able to hold them to field goals for a lot of those opportunities."
On their third drive, Khaseem Phillips scored on an eight-yard run extending Prep's lead to 21-6 with 58 seconds left in the first quarter. 
"Khaseem has been carrying us most of the year and we have had some injuries at the position," said Roken. "He works hard for these opportunities and made the most of them today." 
In the second quarter, Jones took over. He threw two touchdown passes. One pass was to Isaiah West for 23 yards and David Washington Jr. caught a seven-yard touchdown pass. 
But it was Jones' highlight reel run that stood out in the second quarter. He leaped over a defender and went 42 yards for the score. Just like that, it was 42-6 with 2:37 remaining in the first half. 
Jones finished the night passing for 210 yards and rushing for 94. His offensive line gave him time to make plays.
"He has great command of the offense and today our offensive line played really well," said Roken. "We were able to move the ball down the field offensively." 
Sanchez got his second rushing touchdown of the first half. He powered in from five yards out with 1:33 left. 
At halftime, Prep led 49-6. Now with a running clock, in the second half, the Trojans needed a big play to start of the second half.
They got it. Parkland's Nakhi Bullock took the second-half kickoff and ran it back 95 yards for the touchdown. Jack Harrison caught a Luke Spang pass for the two-point conversion. Prep led 49-14 with 11:43 left in the third quarter.
"We didn't start the second half off right and had to hit the reset button," said Roken. "Doesn't matter what's on the scoreboard, we have to play to a standard." 
Prep scored on their next possession. This time, Ryan Miller's 28-yard kick pushed Preps' lead to 52-13.
With a running clock, the final score of the game came late in the third quarter. Parkland's Harrison caught a 26-yard pass from Spang for the touchdown. 
Spang finished the night passing for 235 yards and Bullock caught eight passes for 125 yards. 
Scoring Summary
| | | | | | |
| --- | --- | --- | --- | --- | --- |
| Final | 1st | 2nd | 3rd | 4th | Final |
| St. Joseph's Prep | 21 | 28 | 3 | 0 | 52 |
| Parkland | 6 | 0 | 15 | 0 | 21 |
1st Quarter
SJP: Erik Sanchez 42-yard run (Skyler Sholder kick) 10:34 
P: Gryffin Mitstifer 39-yard field goal 7:37 
SJP: Samaj Jones 12-yard run (Skyler Sholder kick) 4:16 
P: Gryffin Mitstifer 41-yard field goal 2:03 
SJP: Khaseem Phillips 8-yard run (Skyler Sholder kick) :58 
2nd Quarter
SJP: Isaiah West 23-yard pass from Samaj Jones (Skyler Sholder kick) 7:32
SJP: David Washington 7-yard pass from Samaj Jones (Skyler Sholder kick) 4:37 
SJP: Samaj Jones 45-yard run (Skyler Sholder kick) 2:37 
STP: Erik Sanchez 5-yard run (Skyler Sholder kick) 1:33 
3rd Quarter
P: Nakhi Bullock 95-yard kickoff return (Jack Harrison pass from Luke Spang) 11:43
SJP: Ryan Miller 28-yard field goal 4:17 
P: Jack Harrison 26-yard pass from Luke Spang (Gryffin Mitstifer kick) 1:10