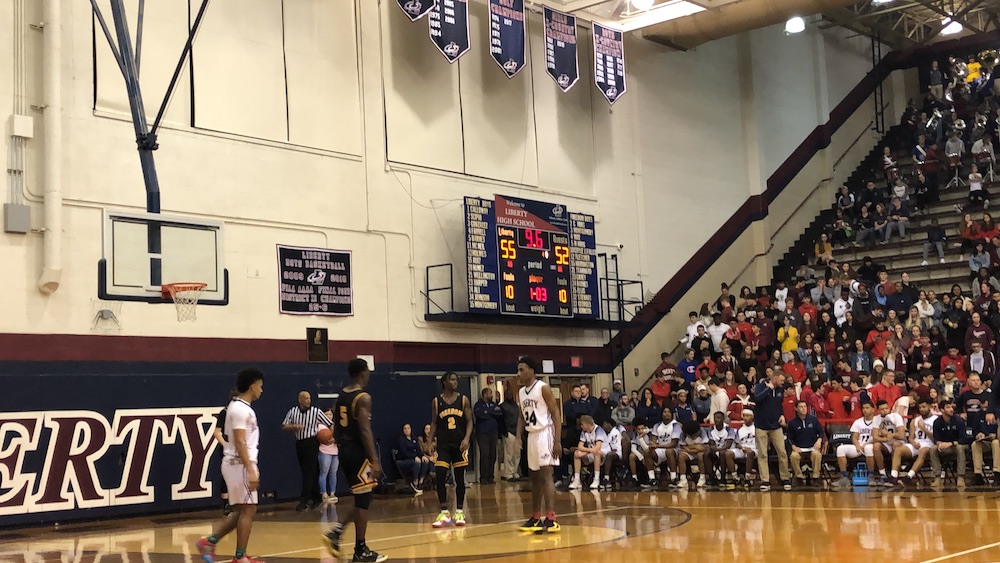 The East Penn Conference Boys Basketball tournament tipped off at Liberty's Memorial Gymnasium on Friday night. Rivals Liberty, the number two seed in the 8-team tournament battled arch-rival Freedom, who checked in, as the number 7 seed.
The Patriots jumped out to a 6-0 lead before the Hurricanes went on a 13-3 run and would lead 15-13 at the end of the first quarter and 20-19 at the break. Liberty used an 8-0 run to start the third as they raced out to a 12-point lead, 33-21. The Canes hit four three-pointers in the quarter, including two by Ish Gonzalez, who finished with nine points.
Freedom would battle back as they closed out the quarter with the last five points and cut into the lead trailing 38-32, heading to the 4th.
They stayed hot to start the final quarter with back to back three-pointers by Caleb Mims to even the game at 38-38. Mims would finish the game with 16 points. Liberty would go back on top on a couple of occasions before Malik Mims came up with the steal and basket to tie the game up again at 44-44. All nine of his points came in the 4th quarter.
Freedom would battle to the very end, but Liberty prevailed winning 55-52, behind 12 points by both Antonio Montgomery and Will Harper, who also pulled down 10 rebounds.
Liberty will now take their 14-game win streak to the PPL Center on Monday night to face number three seed Central Catholic in the semi-finals. Liberty improves to 19-4 with the win while the Patriots now get ready for Districts after falling to 15-8 overall.