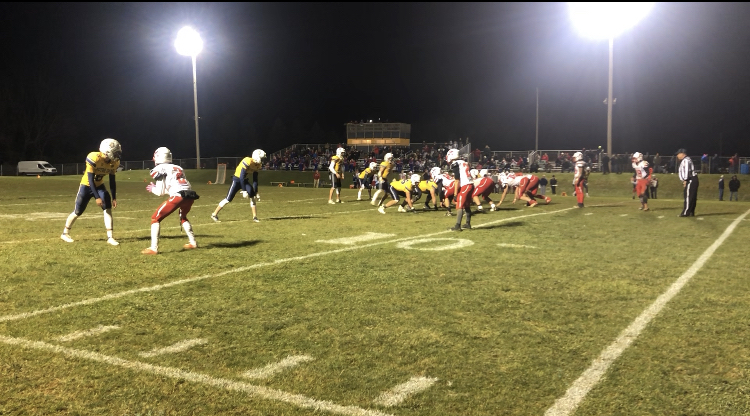 The District XI 3A Semifinal football game took place on a cold Saturday night in Easton and proved to be a competitive matchup the entire game. The Notre Dame Crusaders came out strong. Within the first couple minutes of the game, Collin Quintano connected to Logan Castellano for six on the board. The two-point conversion was unsuccessful. The Crusaders took the lead 6-0.
Jim Thorpe reacted promptly as Cameron Tinajero scored six. With a successful PAT by Kieran Mele, the Olympians took the lead, 7-6 to end the first quarter.
After a blocked field goal for the Crusaders, the Olympians recovered the ball at the 34-yard line. With less than a minute left in the half, the Olympians scored, Jim Thorpe (14) led Notre Dame (6). With ten seconds to go until the end of the first half, Logan Castellano scored for the Crusader touchdown. The two-point conversion was incomplete, which took us to halftime with Jim Thorpe (14) – Notre Dame (12).
Early in the third quarter, the Olympians put three on the board after a successful field goal by Kieran Mele. Olympians lead 17-12. A little less than five minutes remaining in the third quarter, Nadir Sanders scored for the Crusaders, but the PAT was no good. Notre Dame took the lead 18-17. To end the third quarter, Jim Thorpe's Kieran Mele put three points on the scoreboard, taking the lead 20-18.
With 4:32 left to go in the game, Jim Thorpe's Drew Wimmer scored six. The PAT by Mele was unsuccessful. The Olympians extended their lead 26-18 over the Crusaders, which ended up being the final score.
The Olympians win sends their team to the District XI 3A Championship game next Saturday where they will face the North Schuylkill Spartans.