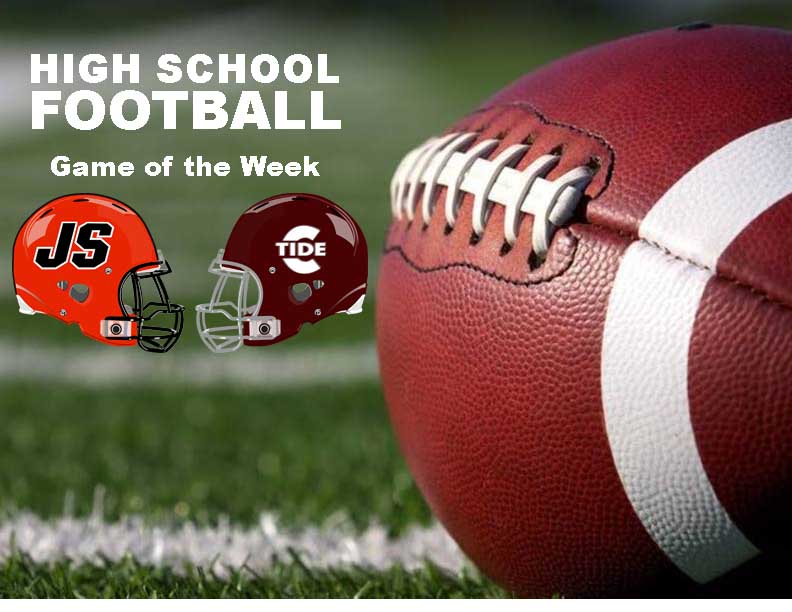 by Cody Smith
DANVILLE – The Jersey Shore Bulldogs found themselves in a 21-0 hole at the end of the opening quarter Friday night in Danville, but the District 4 Class 4A champions rallied for a 42-35 victory in triple-overtime to earn its seventh straight win and advance to the Class 4A state semifinals.
The Bulldogs will take on District 2 champion Dallas for a shot at a berth in the state championship game at a time and location to be determined next week.
"This win is huge," said Jersey Shore coach Tom Gravish following the game. "We get such great support from our community, whether it's the administration, teachers, counselors, the band and cheerleaders, the booster club, and we filled up this entire Danville side of the stadium with great fans. The entire community is here, and we get great support."
Pottsville – who had been making its first state playoff appearance since 2006 – started off hot by posting the first 21 points on the game.
The Crimson Tide – who started senior players at 21 of 22 positions – stopped Jersey Shore on a three-and-out on the game's opening possession and promptly put together an eight-play drive that covered 46 yards to score the opening points of the game.
On a second-and-goal play from the 11-yard line, Pottsville quarterback Damon Yost found 6-4 wide receiver Kevin Schenk in the endzone for a score.
The Crimson Tide defense stepped up again on the following Jersey Shore drive. After Jersey Shore Quarterback Tanner Lorson hit wide receiver Stanton Westlin to give the senior 1,000 receiving yards on the season, a pitch play to halfback Josh Malicky went awry, and Pottsville's Schenk picked up a fumble recovery deep in Jersey Shore territory.
Pottsville promptly scored again on a two-yard run by Justin McClure to go up 14-0 with 4:13 remaining in the opening quarter.
Another three-and-out by the Pottsville defense gave the ball right back to the Crimson Tide and the team drove right back down the field and scored again, this time on a 28-yard run by Yost.
At the end of the opening quarter, Pottsville had outgained Jersey Shore on offense 136 yards to just 16 for the Bulldogs.
Right when it seemed nothing Pottsville could do would possibly go wrong, it seemed as though the light switched on for Jersey Shore.
Early in the second quarter the Jersey Shore defense made a stand, stopping the Crimson Tide on fourth down in Jersey Shore territory. Three plays later for the Jersey Shore offense, Lorson dropped back and bombed a deep pass to Cayden Hess. Hess caught the pass down the right sideline after it had been tipped by a Pottsville defender for a gain of 30 yards. Hess ended up leading the Bulldogs in receiving in the game, catching nine passes for 98 yards and a pair of touchdowns.
From here, Jersey Shore took the momentum and ran with it. Three plays after the 30-yard gain, Lorson ran for a nine-yard touchdown on third-and-inches to put the Bulldogs on the board.
Jersey Shore attempted an onside kick with momentum on their side, but could not recover, but the defensive unit came back out and forced another three-and-out to get the ball right back.
Once again Lorson and the Jersey Shore offense put together a touchdown drive. The Bulldogs pieced together a 10-play drive that included a conversion on fourth-and-one early in the drive. On first-and-goal from the nine-yard line, Lorson found Owen Anderson in the endzone for the score for his first of five passing touchdowns on the night. In all, Lorson accounted for all six Jersey Shore touchdowns.
"I think we were a little scared coming in," said Lorson, "(The coaching staff) was on us on the sidelines. They knew we could play with this team and once that second quarter hit we were able to move the ball on them and play great defense."
The Jersey Shore score put the team behind 21-14 headed into the half as the team looked for a potential game-tying score. It would take the majority of the second half, but finally Jersey Shore found a way to knot things up at 21-apece.
With 2:40 remaining in the game, Jersey Shore took over at its own 44-yard line. With the drive seemingly stalled out early on, The Bulldogs converted a third-and-nine thanks to a Pottsville pass interference penalty. The drive stayed alive and eventually culminated in a 26-yard touchdown catch by Stanton Westlin with just 51 seconds remaining in the game.
Westlin caught three passes on the game's final drive but wound up injured on the game-tying touchdown grab. He finished the game with seven catches for 89 yards and a score.
Pottsville took over possession of the ball with 50 seconds remaining and decided to take the game into overtime, where suddenly a game that saw just seven total points in the second half, exploded into an offensive free-for-all.
In the opening overtime period, Pottsville earned back-to-back sacks on Lorson to dampen the spirits of the Jersey Shore sideline. On a third-and-goal from the 26-yard line, Lorson dropped back and fired a pass to Hess in the endzone for an improbable score.
In an instance where Pottsville could have easily hung its collective heads, Yost came out an fired a touchdown pass of his own on the first play of the Crimson Tide's possession to force a second overtime.
In the second overtime Pottsville had possession of the ball first and faced a fourth-and-goal from the four-yard line. Yost dropped back and hit Addison Mullins for the go-ahead score.
Jersey Shore struck right back two plays later, scoring on another Hess touchdown and forcing a third overtime period.
In the third overtime it took another spectacular fourth-down score for Jersey Shore to regain the lead. On fourth-and-goal from the five-yard line Pottsville brought the blitz, but Lorson stood tall in the pocket and delivered a pass to a wide-open Brett Guthrie to put Jersey Shore up 42-35.
Three plays later it was Guthrie who got to be the hero again. Guthrie picked off a Yost pass in the back of the endzone to finally end the game after three overtime periods.
"By far this is the biggest win in school history," said Lorson. "We couldn't have done it without everyone on the team. At halftime, we knew that we would be able to do it. It was a crazy game. I loved it."
"We just couldn't make that one big play when we needed it," added Pottsville coach Tom McGeoy of his team's performance. "Whether it was a third-and-one or a third-and-26 in overtime, we just couldn't come up with that one extra big play to kind of finish the game."
Jersey Shore improved to 11-3 on the season and advanced to the Class 4A state semifinals against Dallas.
"Our motto is that we play Bulldog ball for 48 minutes," said Gravish. "It doesn't matter what the score is, as long as there is still time on the clock we can still win the football game."
"Hats off to them," added McGeoy. "They did a great job and just kept battling. In overtime it looked like everything was going our way and then they end up with a big touchdown. They're a great team and they're very scrappy. I wish them good luck next week."
Pottsville's season ends with a record of 11-3.
"I told our guys that we're reloading next year, not rebuilding," said McGeoy. "Hopefully we can build off this season and move forward. Its going to take a little bit and this is going to sting."
Jersey Shore 42, Pottsville 35
SCORE BY QUARTERS
Pottsville 21 0 0 0 7 7 0 — 35
Jersey Shore 0 14 0 7 7 7 7 — 42
First Quarter
P—Kevin Schenk 11-yard reception from Damon Yost (Raeff DiCello PAT Good), 7:58.
P—Justin McClure 2-yard run (DiCello PAT Good), 4:13
P—Yost 28-yard run (DiCello PAT Good), 0:51
Second Quarter
JS—Tanner Lorson 9-yard run (Cam Allison PAT Good), 5:47.
JS—Owen Anderson 15-yard reception from Lorson (Allison PAT Good), 1:48.
Fourth Quarter
JS—Stanton Westlin 26-yard reception from Lorson (Allison PAT Good), 0:51
Overtime
JS—Cayden Hess 26-yard reception from Lorson (Allison PAT Good)
P—Mason Barnes 10-yard reception from Yost (DiCello PAT Good)
Double-Overtime
P—Addison Mullins 4-yard reception from Yost (DiCello PAT Good)
JS—Hess 10-yard reception from Lorson (Allison PAT Good)
Triple-Overtime
JS—Brett Guthrie 5-yard reception from Lorson (Allison PAT Good)
TEAM STATISTICS P JS
First downs 13 13
Total yards 238 347
Rushes-yards 42-82 32-62
Yards passing 156 285
Passing (comp.-att.-int.) 17-33-2 26-43-1
Fumbles-lost 1-0 1-1
Penalties-yards 4-46 5-25
INDIVIDUAL STATISTICS
RUSHING—Jersey Shore: Josh Malicky 18-68, Lorson 16-(-6) TD. Pottsville: Kevin DiCello 20-54, Bobby Walchak 1-8, Yost 10-7 TD, Mullins 2-4, Barnes 2-4, Joe Ferraro 3-3, McClure 1-2, Schenk 1-1, TEAM 1-(-1).
PASSING—Jersey Shore: Lorson 26-43 285 yds, 5TD, INT. Pottsville: Yost 17-32 156 yds, 3TD, 2INT; Barnes 0-1.
RECEIVING—Jersey Shore: Cayden Hess 9-98 2TD, Stanton Westlin 7-89 TD, Anthony Shaffer 2-43, Anderson 5-34 TD, Malicky 2-16, Guthrie 1-5 TD. Pottsville: Mullins 6-52 TD, Schenk 3-32 TD, Barnes 3-26 TD, Ferraro 2-19, Daulton Mates 2-14, DiCello 1-13.