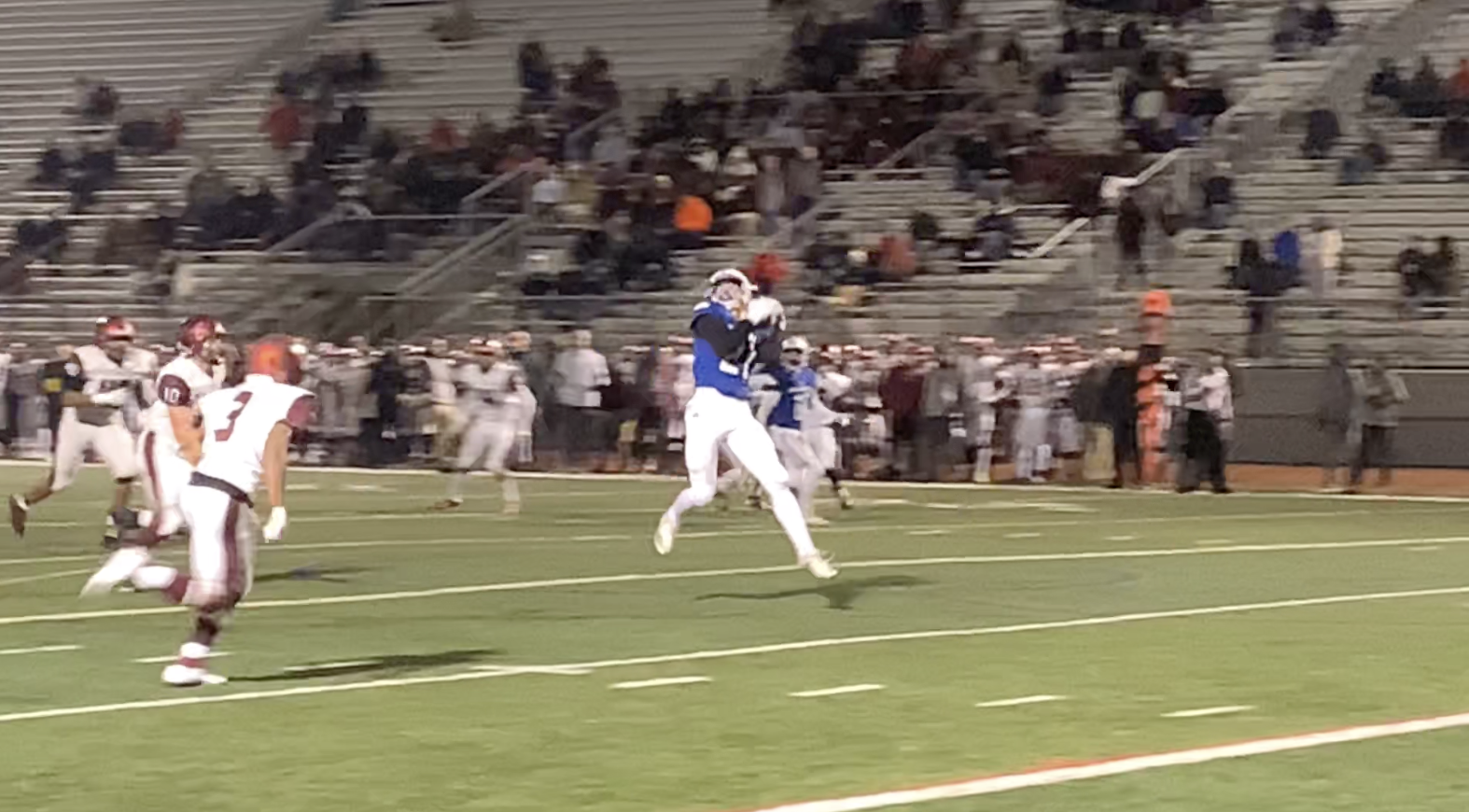 BETHLEHEM – St. Joe's Sahmir Hagans had two punt returns to lead Prep over Nazareth Area 45-24 in the PIAA Class 6A quarterfinals at BASD stadium Friday night.
With the win, Prep will play District 7 powerhouse PIttsburgh Central Catholic, who defeated State College 24-21 in the other quarterfinal game.
St. Joe's wasted little time scoring on their opening possession. The 80-yard touchdown drive was capped off by Malik Cooper 21-yard touchdown pass to Marvin Harrison Jr. Antonio Chadha's kick was good and Prep led 7-0.
The Blue Eagles answered right back. Anthony Harris hit a wide open Joe Capobianco for the 22-yard touchdown pass. Matt Bugbee's kick was good. The game was tied at seven with 5:42 left in the first quarter.
Prep drove down to the Nazareth 10. The Blue Eagles defense held and forced a 27-yard field goal attempt by Chadha. The kick was good. Prep led 10-7.
Early in the second quarter, Prep's Kolbe Burrell broke free for a 40-yard touchdown run to extend Preps lead 17-7. They were not done yet. Sahmir Hagans' returned the punt 52 yards for a touchdown. It's now 24-7 9:59 left in the first half.
The Blue Eagles defense needed a stop and they got it. Jake Wilson blocked the Prep punt. The Blue Eagles took over on the St. Joe's 19.
Bugbee kicked a 22-yard field goal with 3:02 left in the first half. Prep leads 24-10. On the last play of the half, Nazareth's 47-yard field goal attempt was blocked as time ran out in the first half.
Prep went into halftime leading 24-10.
The Blue Eagles received the second half kick off, but Prep's defense forced a punt. They took over on Nazareth's 45. Burrell finished the drive and scored from one-yard out. Hagans returned his second punt return of the night. His 48-yard return put St. Joe's up 38-10, with 8:13 left in the third quarter.
The Blue Eagles fumbled the ball. Anthony Rightley recovered it and went 24 yards for the score. Prep led 45-10, with 7:46 left in the third quarter.
Nazareth scored the final two touchdowns. Harris hit Nathan Stefanik for a 17-yard touchdown pass. Bugbee threw a 27-yard pass to Tyler O'Hagan with 4:24 left in the game.
| | | | | | |
| --- | --- | --- | --- | --- | --- |
| Friday, November 22, 2019 | 1 | 2 | 3 | 4 | Final |
| St. Joseph's Prep | 10 | 14 | 21 | 0 | 45 |
| Nazareth Area | 7 | 3 | 0 | 14 | 24 |
1st Quarter:
SJP – Marvin Harrison Jr. 21-yard touchdown pass from Malik Cooper (Antonio Chadha kick) 9:00
N – Joe Capobianco 22-yard touchdown pass from Anthony Harris (Matt Bugbee kick) 5:42
SJP – Antonio Chadha 27-yard field goal 1:12
2nd Quarter:
SJP – Kolbe Burrell 40-yard touchdown run (Antonio Chadha kick) 11:41
SJP – Sahmir Hagans 52-yard punt return (Antonio Chadha kick) 9:59
N – Matt Bugbee 22-yard field goal 3:02
3rd Quarter:
SJP – Kolbe Burrell one-yard touchdown run (Antonio Chadha kick) 9:19
SJP – Sahmir Hagans 48-yard punt return (Antonio Chadha kick) 8:13
SJP – Anthony Rightley 24-yard fumble return (Antonio Chadha kick) 7:46
4th Quarter:
N – Nathan Stefanik 17-yard touchdown pass from Anthony Harris (Matt Bugbee kick) 10:49
N – Tyler O'Hagan 27-yard touchdown pass from Matt Bugbee (Matt Bugbee kick) 4:25