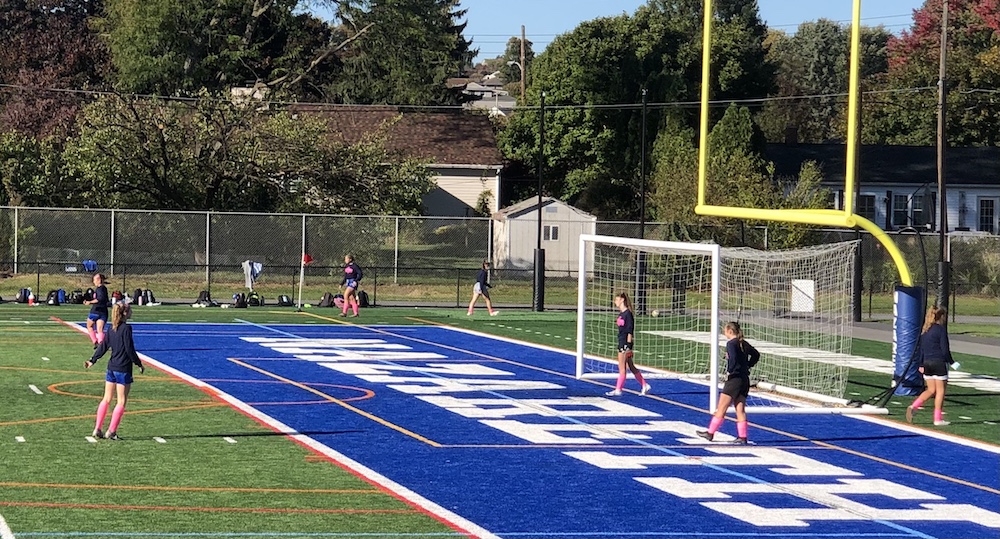 On Wednesday October 14th, the Nazareth Girls Soccer team brought in the win against Northampton as they celebrated teacher appreciation night. The first half was pretty evenly matched as the ball flew up and down the field, neither team giving up a goal. With 20 minutes left in the first half, there was a close call as Northampton took a powerful shot on goal. Luckily for Nazareth, defender Skylar Jordan narrowly blocked the ball, sending the shot soaring over the keeper's head and the goal.
It wasn't until there were five minutes left in the first half that Nazareth drove the ball up the field and Anita Vera assisted Abby James in her first goal of the game. The half didn't end there however. As Northampton got the ball back less than two minutes later, Kylie Straub scored against Nazareth bringing the score to 1-1 at the end of the half.
The second half started out with a bang for the Nazareth girls. In the first minute, Abby James made her second goal of the game with an assist from Kayley Hynes. Nazareth was up by one, but it wasn't over just yet. Both teams were playing aggressively as the ball bounced around from side to side.
With 23 minutes left in the second half, Abby James got a hold of the ball and had an amazing shot right outside the 18-yard box. It met the back of the net and the score was then 3-1. The Nazareth Girls team didn't stop there. Three minutes later, junior Kayley Hynes, also found the back of the net with an assist from senior, Abby James. With a score of 4-1, and ten minutes left in the game, it looked like Nazareth would come out on top. Nazareth wasn't done. They wrapped up the game with another fantastic goal by Abby James to bring the score up to 5-1.
Although at first the game looked close, the Lady Blue Eagles had an impressive second half scoring four goals. Northampton played well both on offense and defense, but this time, Nazareth couldn't be contained.