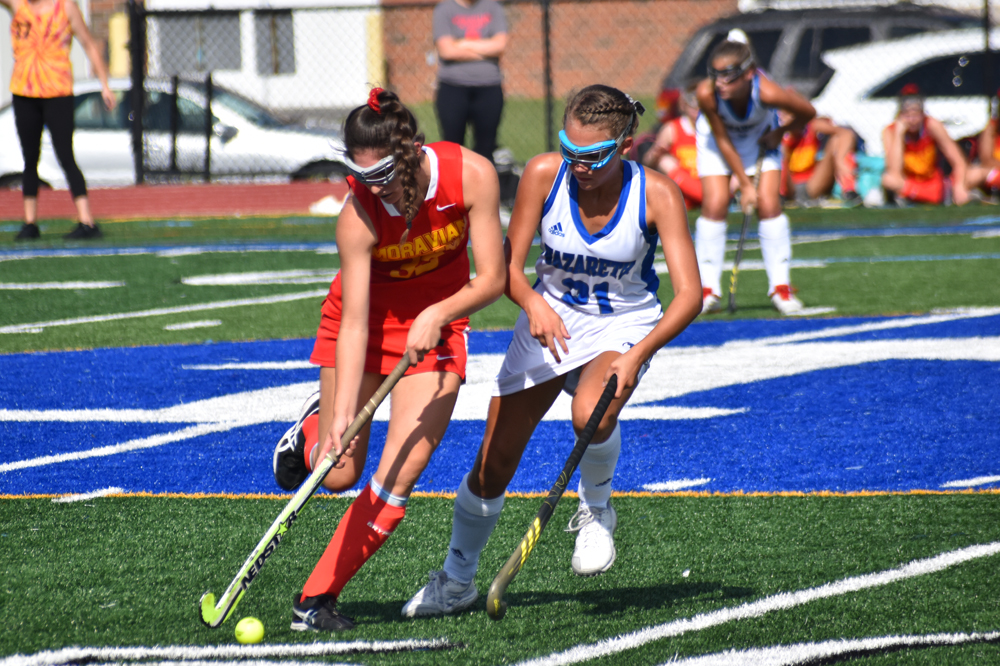 Last year, the Nazareth Blue Eagle girl's field hockey team had their best record since 2014. With their 13-6 regular-season record, they also qualified for the District XI playoffs before falling to Pocono Mountain East in the first round. Last year, they were lead by a group of talented seniors that included Stephanie Moncavage and Adrianna Johns. This year, head coach Marissa Rotz hopes that the large group of underclassmen girls can fill the shoes of those that graduated. Coach Rotz tells me "They are a talented group and we are excited for them to contribute to the team's goals this season." The freshman class is headlined by two varsity starters, Zoey Emrick and Gianna Tripodi.
Nazareth hopes to keep the momentum going from last year into the entirety of this season. They have already put up impressive showings, winning 10-0 over Pocono Mountain West, 7-0 over Pleasant Valley and forcing the talented Pocono Mountain East team (who kicked them out of the district playoffs last year) into overtime.
One of the other names that came up in my conversation with Coach Rotz was senior defender, Krista O'Grady, who coach says is a huge asset to the team. Nazareth wants to have a great send-off season for this year's senior class, which includes Meghan Hodge, Megan Jones, Jasmine Barzin and Mackenzie Gidusko. The Blue Eagle field hockey team hopes to have the same success as last year and more in the 2019 season and looks to become a familiar face in the District XI playoffs.