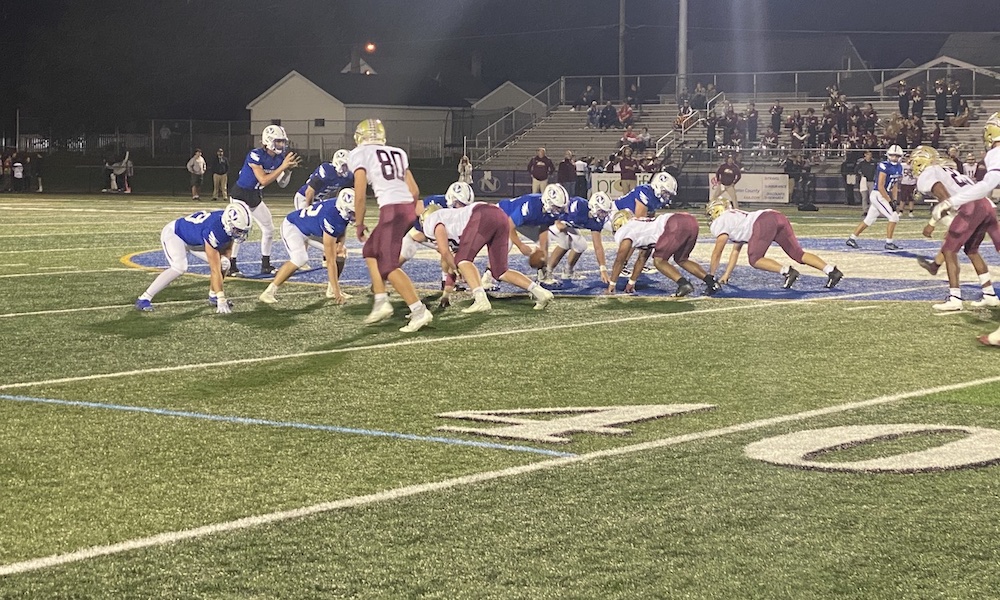 NAZARETH – Mason Kuehner and Tyler Rohn packed a powerful one-two punch for the Nazareth Area (6-3) Football team. 
The 5-foot-11,165-pound Kuehner scored three touchdowns while Rohn, the 5-foot-10 195-pound running back rushed for 175 yards on 31 carries and two touchdowns. The two guided the Blue Eagles to a 35-14 victory over Whitehall (3-5) on Friday night at Andrew S. Leh Stadium.
"Rohn ran like a mad man tonight," said Tom Falzone. "He is a senior and a captain for us. The offensive line did a good job opening up holes for him."
The victory was Nazareth's Head Football Coach Falzone's 50th win with the Blue Eagles. 
Kuehner scored three different ways. He had a 10-yard touchdown run, caught a pass for 25 yards, and intercepted a pass which he returned 23 yards for a score. He finished the night with two interceptions. 
On the Blue Eagles' opening drive, Rohn and Sonny Sasso established the running attack. At the 50, Sasso completed back-to-back passes of 17 and 20 yards to set up Kuehner's 10-yard touchdown run. Chris Bugbee's kick made it 7-0 with 6:43 left in the first quarter.
Mason was busy in the first quarter. He intercepted a Trey Dogmanits' pass to Whitehall's 25. One play later, Sasso fired a pass to Kuehner for a 25-yard touchdown pass.
"He is such a super athlete and we try and find ways to get him the ball," said Falzone. "He does it on both sides of the ball." The first quarter went to the Blue Eagles.
Whitehall, down 14-0, got their offense going in the second quarter. The Zephyrs capped off an 11-play, 83-yard drive. Damonte Foreman's two-yard touchdown run cut the lead in half. Andrew Deutsch's kick was good and the Blue Eagles lead was 14-7.
The Zephyrs weren't done. The defense forced another punt and the offense scored another touchdown. Dogmanits hit Devin Donatelli for a 40-yard touchdown pass.  It was tied up at 14 with 6:05 left in the first half. 
Nazareth's offense got back into rhythm. Rohn carried the ball five times during the drive including powering in from six yards out to give the Blue Eagles the lead back, 21-14 with 3:30 left in the first half.
After a Nazareth punt to start the second half, The Blue Eagles' defense came up with a big play. Kuehner intercepted a tipped pass by Matt Capobianco and took it 23 yards for the score. The lead was 28-14 with 10:31 left in the third quarter. 
"His interception was a game-changer for us," said Falzone. "That tipped ball he picked and took in was a huge play and a momentum swinger for us."
Rohn seemed to get stronger as the game went. Rohn ran the ball 10 of 15 plays and finished the drive scoring from one yard out. 
With the win, Nazareth sets up up a big game next week against Easton Area who defeated Emmaus 17-13. Whitehall is home next week against Northampton.
| | | | | | |
| --- | --- | --- | --- | --- | --- |
| Final | 1st | 2nd | 3rd | 4th | Final |
| Whitehall (3-5) | 0 | 14 | 0 | 0 | 14 |
| Nazareth Area (6-3) | 14 | 7 | 14 | 0 | 35 |
1st Quarter
N – Mason Kuehner 10-yard TD run (Chris Bugbee kick good) 6:43
N – Mason Kuehner 25 yard pass from Sonny Sasso (Chris Bugbee kick good) 5:05
2nd Quarter
W – Damonte Foreman 2 yard TD run (Andrew Deutsch kick good) 10:29
W – Devin Donatelli 40 yard pass from Trey Dogmanits (Andrew Deutsch kick good) 6:05
N – Tyler Rohn 6 yard TD run (Chris Bugbee kick good) 3:30
3rd Quarter
N – Mason Kuehner 23 yard interception return (Chris Bugbee kick good) 10:31
N – Tyler Rohn 1 yard TD run (Chris Bugbee kick good) 1:25