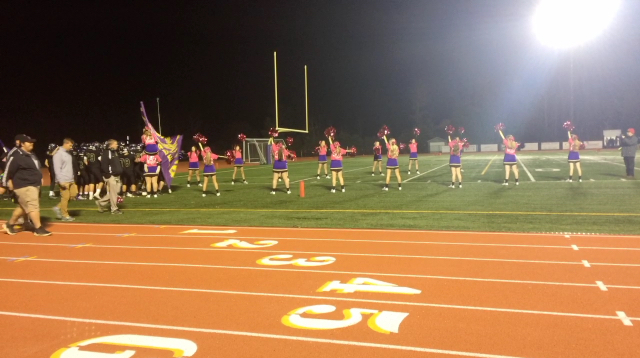 Saucon Valley faced the Palisades Pirates for their Senior Night on Friday, October 25. The stadium was decked out in pink to support breast cancer awareness month. Parents filled the seats for the final home game of Palisades' season.
Starting off the game, the Saucon Valley Panthers scored a touchdown with 8:48 left on the clock in the first quarter. When the extra point was good, the score was 7-0 Panthers. To score one of their own, Palisades fought back with a touchdown by Mason Smeland with three minutes left in the half making it 7-7. It was anyone's game.
Palisades began the second half strong with a second touchdown by Mason Smeland. The extra kick, however, hit the goal post bouncing out, making the score 13-7 in favor of the Pirates. With just 50 seconds left in the game, Saucon scored a touchdown and missed the extra point as well to bring the game back to a tie, 13-13. With an interception, Saucon gained the ball back with 44 seconds left on the clock. Palisades returned with an interception of their own to start with the ball at the start of overtime.
Zach Shoemaker kicked a field goal for Palisades during overtime to bring the score to 16-13 Pirates. On the fourth down, the Panthers attempted their own field goal, which fell short to give Palisades the win, 16-13.
The Pirates then held Senior Night festivities after the game.