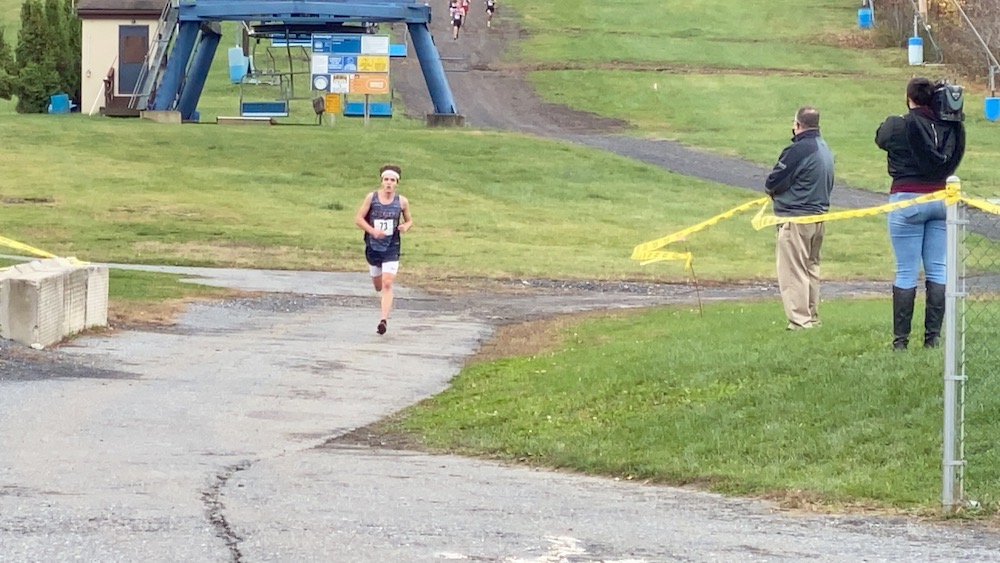 An action-packed day at the Blue Mountain Ski Resort in Palmerton, for the running of the District XI Cross Country Championships. A venue change from DeSales University providing more open space, while also allowing spectators to attend the event. Everyone doing their best to social distance to keep within the Covid-19 guidelines.
Aside from the venue, another change to this years' event was the addition of a second heat in all classifications. The day kicked off with the 3A runners making their way to the starting line first. Cole Frank of Liberty won his second straight individual title in a time of 17:31.90. Zeke Colyer of Northampton, who won the first heat, finished second in a time of 17:39.
Five runners move on to the State tournament, including Parkland (83 points), who won the team title, edging out Southern Lehigh (84 points).
To the 1A class, Palisades moved down in class this year, and for Thomas Smigo, the same result. The super Sophomore, who won the 2A title a year ago, won the 1A title this year in 18:13, with teammate Mitchell Campbell finishing second (18:54), and last years' 1A champion Scotty Zoscin of Weatherly coming in third place.
The team title went to Weatherly, who won their first-ever championship in Cross Country. Moravian Academy finished second and Palisades third.
In the final race of the day, Matt Chaikowsky of Saucon Valley captured the Gold in the 2A class, winning in a time of 17:48 while Sam Bower of Northwestern Lehigh finished second in a time of 17:55. Both runners won their individual heats and more hardware for the Tigers after the race.
Northwestern won the 2A team title for the second straight year and are headed to Hershey while Blue Mountain finished second and Notre Dame GP third.
The Girls will have their day on Wednesday with all the action getting underway at 10 am.