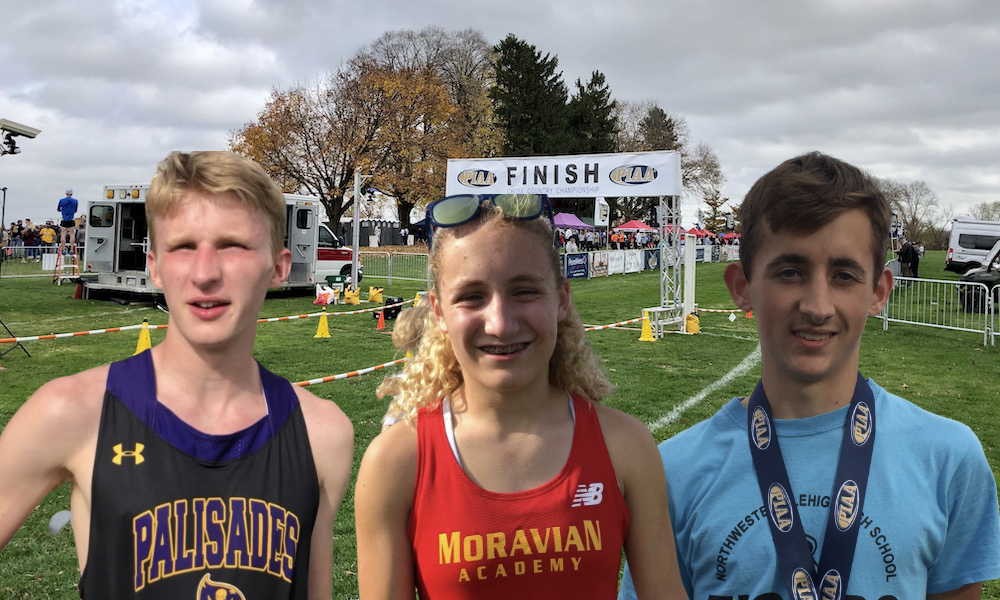 HERSHEY – District 11 runners and teams came up golden in Chocolatetown on Saturday at the PIAA Cross Country Championships.
Palisades' Thomas Smigo and the Notre Dame Green Pond girls captured back-to-back state titles, while Moravian Academy's Virginia Kraus stood atop the medal stand in Hershey for the first time.
S
migo won the boys' Class 1A title for the second year in a row, crossing the line in 16:33 to top Huntingdon's Tyler Rader (16:39) and Eden Christian's Sean Aiken (16:42) in second and third, respectively.
Kraus dominated the girls' Class 1A race. The freshman hit the line in 18:54, well ahead of runner-up Chelsea Hartman of Shady Side Academy, who finished in 19:36.
The Crusaders won the girls' Class 1A team title for the second year in a row. Notre Dame-Green Pond and Montrose tied with 78 points, but the Crusaders were declared the champion based on a tiebreaker.
For Smigo, the event punctuated a stellar high school cross country career.
"Earlier, like a month ago, I became our league's first four-time boys' champion, and then our district's first four-time boys' champion," said Smigo. "So to kind of cap that off with two straight state titles is just really something special, because it's really the pinnacle of running. I mean, technically there's nationals and stuff, but for most people it's kind of the pinnacle; it's like, after this, it's done for.
"So to be able to top everyone here in single A is really just cool."
Smigo has been electric throughout his career, something that has been a product of his dedication and hard work.
"Starting as a freshman, I was still pretty good at running, but I was a lot weaker than I am now," said Smigo. "I kind of grew into my body a lot nicer than I was anticipating so I was able to kind of progress faster.
"Missing my freshman year of track kind of helped motivate me and understand that nothing is guaranteed, so I have to be able to go out and take advantage of every opportunity I have, because I missed my freshman year of track, so being able to progress during that season kind of motivated me to push forward and keep going, and it kind of became a cycle, it was part of my daily routine, as opposed to being something I had to do."
And it's something he's done well.
While Smigo reflected on his career, Kraus is just authoring the beginning, one that includes Colonial League and District 11 titles this fall.
"It's awesome. It's a really good feeling," said Kraus. "I think it's a good award for all the hard work I put in this season, so it really feels great.
"I had a lot of nerves. I really didn't know what to expect since this is my first year, but I felt prepared. I came up here a few weeks ago to jog the course and see what it felt like. I felt like I had what I needed to have to win the race."
Kraus was out front throughout the race, steadily increasing her lead.
"So I was really happy with my first mile, because I didn't go out too fast," said Kraus. "Previously, I've had a lot of trouble with that. My first mile was a 5:42, which is exactly where I wanted it to be. And then I slowed down a little bit on the second mile, but that's usually what I like to do, as my race plan.
"And then I picked it up a little bit on the last mile, I was like a 6:02, but obviously not faster than the first mile, so I think I executed my plan. I'm really happy with my time. Definitely the best I could do."
Kraus showed her mettle on Saturday among the top competition in the state.
"I was a little worried going into this race, because I raced at the Paul Short Invite a few weeks ago, and I got fourth," said Kraus. "So I was nervous for what I would do; I had a lot of competition. But I feel like I really didn't need to be so nervous because I was able to come out and run a really good race."
Notre Dame Green Pond's girls were led by medalist Ella Schweitzer. The freshman placed 17th with a time of 21:04.
Olivia Schweitzer (27th, 21:39), Breanna Hammerstone (30th, 21:49) and Katherine Koons (31st, 21:53) gave the Crusaders four runners in the top 35.
Freshman Samantha Karwacki placed 55th with a time of 22:19, and Lauren Bower crossed the line in 100th (23:15) as NDGP's sixth runner.
Northwestern's Lehigh's Matt Santana earned his second state medal and best career finish with a seventh-place result in Class 2A. The senior finished in 16:40.
"It's really special for me," said Santana. "I've always wanted to get a state medal, and this is my second one, so I'm very happy. It means a lot. I know it means a lot to the coaches and the whole program, and I'm just very happy."
Allentown Central Catholic's Duke Ebert medaled with a 22nd-place finish with a time of 17:10.
Wilson's Avery Errico medaled in the Class 2A girls' race with an 18th-place finish in 20:25, while Hailey Reinhard of Emmaus placed 20th in the 3A race for the second year in a row with a time of 19:43.
"I'm extremely happy with that," said Reinhard. "The goal today was to have a good time and go out there and try my best, and that's what I did."