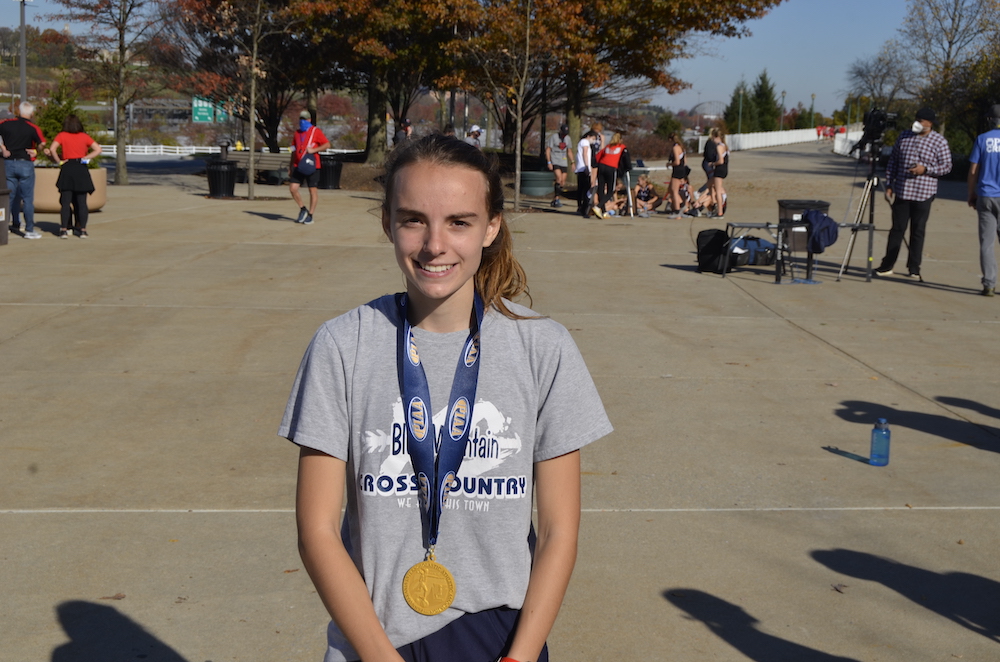 HERSHEY – Olivia Haas has the DNA of a champion.
But the Blue Mountain junior's will to win is unmatched.
While her father, Randy, starred for the Eagles during his cross country career, Olivia has already created her own legacy, one with no shortage of milestone moments.
She added her biggest on Saturday, winning the Class 2A race at the PIAA Cross Country Championships to join her father as a state champion.
"It's very special," said Olivia. "Me and him are both state champs now in our family, and it's incredible.
"Coming into the day, I knew he was a state champ, and I knew that I wanted to be a state champ along with him so it's very exciting."
The younger Haas had already logged two top-five finishes at states, placing fifth as a freshman and fourth a year ago.
She ran away with the gold medal on Saturday, crossing the line in 18:56. Brownsville's Jolena Quarzo was took second with a time of 19:38.
In addition to Haas, Palisades' Thomas Smigo, Lehighton's Kelsey Gaston, Tri Valley's Samantha Masser and Liberty's Cole Frank brought home state medals for District 11 schools.
Smigo collected his second medal, placing third in Class A with a time of 17:01. Gaston, a senior, earned her first state medal with an 11th-place place finish in the Class 2A race.
Masser finished 17th in the Class 1A race with a time of 21:23.
Frank capped his high school cross country career with another state medal, finishing 24th in the Class 3A race.
The format for this year's state meet was modified, with each classification running in four heats. Haas was in the second heat with the rest of her Blue Mountain team, which finished fourth overall.
"I knew coming into the race that I had a disadvantage because I went first," said Haas. "I knew the Cori (McCormick, North Schuylkill) and Quarzo were going head-to-head in the same race, so I knew I had to post a time that they couldn't touch and I knew I had to go out there and just give it my all and stay mentally tough in the race.
"I was happy with my time, but I didn't really feel like it was (going to hold up). I just didn't know how they would feel and how they would race. So I was a little worried, but you're always worried about your time, even if you run a fast time. You just never know what's going to happen."
Quarzo and McCormick, who defeated Haas for the District 11 Class 2A title a week ago, ran in the final heat. McCormick, a three-time state medalist who was fifth a year ago and seventh in 2018 after placing 20th as a freshman, figured to be one of Haas' biggest threats again this season.
But the senior was unable to finish the race on an unseasonably warm day, with temperatures in the mid-to-upper-70s.
For Haas, the journey continues.
"It's exciting," she said. "I still have more races to go, so I'm still going to be training in the winter and I'm just so happy right now."
Smigo's situation was unlike that of Haas. The sophomore was in the fourth and final heat for the Class 1A boys.
He pushed through for a time of 17:01, just behind Penns Valley's Colton Sands (16:42) and Kevin Jumper (16:54) of Holy Cross, who went 1-2 and ran in the first heat.
"The heats kind of helped and kind of hurt me at the same time," said Smigo. "It would have been nice to be running next to the people I was trying to beat for the state championship, but it was also nice knowing their times. Since I was in the last heat, I got to know what time I had to hit. I just couldn't hit the time I had to.
"I couldn't be happier with how I finished today. I did miss out on first and second place – my goal was to get top three – but I was gunning for first. But top three, I still got that, so I'm really happy with my placement."
Smigo was seventh at states in Class 2A as a freshman.
"Last year was kind of like my trial year," he said. "Kind of just figuring out what it's like to do big meets and stuff, and the pressure involved with them.
"This year was kind of my first year where I was like, 'All right, I have goals that I'm going to set, I'm going to try and win every single one.' So I came up short at states, but my goal was still top three coming into it today."
Smigo already has two Colonial League and District 11 titles to his name, and he's shown the type of improvement that makes a trip to the top step of the podium in Hershey next season within reach.
Gaston placed third at the district meet to make it to states.
"The nerves weren't as bad as districts of course, because my biggest goal coming into this season was states; that's what I wanted," said Gaston. "The heats did factor into it, because you don't know what place you're in while you're running and it's nerve-racking. I was counting the places and trying to do the math in my head.
In the first mile, I was very stressed because I was actually last at one point in the beginning because I take off very slow but I pushed through and made the best out of it."
Gaston, who ran in the fourth and final heat, finished strong to cross the line in 20:29 for her first state medal.
"It means a lot," said Gaston, who will be going into the Marines after high school. "If you would have told me this sophomore or freshman year, I would have been like, 'What?! Eleventh? No.' And coming into this race I was ranked 27th (the top-25 medal) and knew that it was going to be close and that it was going to be a race, and that it was going to be really humid, so I made sure I drank a lot of water to get everything down.
"I definitely was not expecting this. … It definitely was a great experience. It feels amazing."
After repeating as the Class 3A district champ, Frank finished off his high school cross country career with another state medal.
Frank was 18th at states as a junior in Class 3A with a time of 16:22. He finished Saturday's race in 16:57.
"It was definitely a hot day here in Hershey but I think all the runners came out today giving it everything they can, regardless of the weather," said Frank. "It's just a mental battle out there. I kind of let myself go but I tried to pick it up the last 800 (meters) and overall I'm proud of how much I left out on the course.
"(It's hard to finish) the last high school cross country race ever as a high schooler not with the results you want to. But now we have indoor track left, (spring) track left and it's just about your friends, picking up your friends and just moving on to the next race and leaving everything you've got on the course every race."
While Frank's high school cross country career is over, he has gained a wealth of knowledge that will stick with him long after he stops running.
"I've had three coaches now in high school, two in middle school, so that's five coaches total, and every single one of them has taught me a different life lesson that I'll take further into my career, not just as a runner," he said. "And most importantly the friends that I made, my brothers. It's more about the people for me than the actual racing."
Liberty senior Emily Jobes, who won her second straight district title this year, just missed a state medal. She finished 27th in Class 3A with a time of 20:17.
North Schuylkill junior Riley Schwalm was 26th in the girl's Class 2A race with a time of 21:02.
Palmerton sophomore Natalie Mosier was 31st in the Class A race with a time of 21:57. Emmaus senior Ashleigh McNellis was 31st (20:23) in 3A.
Saucon Valley senior and District 11 champ Matthew Chaikowsky was in front late in his Class 2A heat but was unable to finish