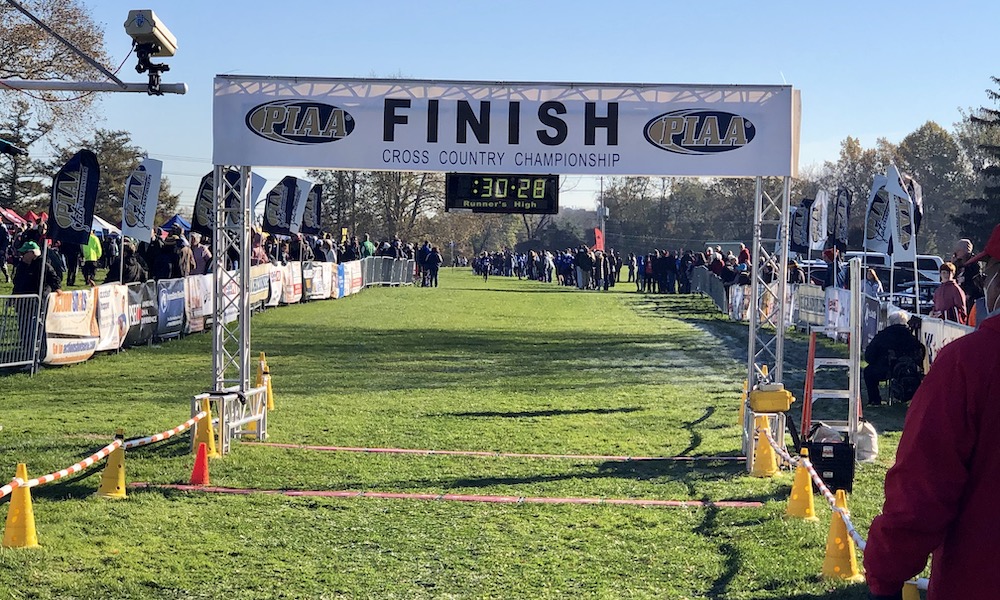 HERSHEY – Chocolatetown?
Hershey produced a gold rush for District 11 runners on Saturday.
Blue Mountain's Olivia Haas went back-to-back at the PIAA Cross Country Championships on Saturday, storming to her second straight Class 2A title.
After placing third a year ago, Thomas Smigo of Palisades left no doubt in the Class 1A race with a convincing victory. And the Notre Dame Green Pond girls capped a stellar season by claiming the Class 1A team title.
While her father, Randy, starred for the Eagles during his cross country career, Olivia has already created her own legacy, one with no shortage of milestone moments.
She added one of her biggest last year, winning the Class 2A race at the PIAA Cross Country Championships to join her father as as a state champion.
The younger Haas had already logged two top-five finishes at states, placing fifth as a freshman and fourth as a sophomore. She hit the line in 18:20.3 Saturday ahead of Brownsville's Jolena Quarzo (18:50.7). Haas crossed the line in 18:56 last year while Quarzo took second with a time of 19:38.
The format for last year's state meet was modified due to COVID restrictions, with each classification running in four heats. Haas was in the second heat, while Quarzo was in the final heat.
They were on the course together this time.
"Today I was so thankful to come out here and defend my state title," Haas said. "Last year it felt a little unfair to me and the rest of the girls that it was split up because of COVID; there were just a lot of nerves last year, just everything, not having everyone here.
"I think today was a little more special having everyone decide it in one race. So I think it was much more fair to everyone else, and it just felt a lot more special today to come out and win."
Haas was at the front throughout before making her move to pull away.
The senior hit the first mile in 5:38.2 with Quarzo right behind at 5:38.5. Haas went through the second mile at 11"40.8, with Quarzo still in reach at 11:42.7.
"The plan today was just to stick with Jo Jo (Quarzo) and just push each other through the race," said Haas. "But that didn't really happen. The second mile, we were together, but I took off after the second mile, just threw in little surges to see if she could stay with me, and luckily I opened that gap.
"Coming into the race my plan was to stay with her for the whole race, and in the last 800 throw in my speed, but I was lucky halfway through the race to make the decision to try and throw in a surge and make that gap on her, so I'm very happy that I was able to do that."
Haas also cruised to Schuylkill League and District 11 titles this season.
In the team classification, Blue Mountain placed eighth.
"I'm so happy my team was able to come with me today," said Haas, who will continue her career at North Carolina State next year. "To share this win with them is just amazing. These past two years having them here with me at states is just so special.
"For two years being alone, so I was just so happy this last week to have them at practice and everything.
"I'm so thankful for how these last four years went. I couldn't have it any other way. I'm so thankful for these last four years and I'm so happy to end it on a high note today."
Pen Argyl senior Sarah Pezzino and North Schuylkill senior Ryley Schwalm also medaled in the 2A race.
Pezzino was seventh with a time of 19:45.7, while Schwalm finished 16th in 20:00.8.
Smigo's situation was unlike that of Haas a year ago. He was in the fourth and final heat for the Class 1A boys. The junior ran away with the win Saturday, crossing the line in 16:31.1 after finishing in 17:01 last year.
"Since June I've been running pretty much every day," said Smigo. "So to finally cross that finish line and get a gold medal around my neck really means a ton. And even since seventh grade, since I've been running, I've never really been good enough to be a state champion. Last year was my best shot up until now, placing third. So getting first really made me happy."
Riverside's Ty Fluharty was second in 16:39.5.
Smigo was first at each checkpoint before crossing the line in first. He was seventh at states in Class 2A as a freshman.
"It was really my freshman year that made me think I had a good shot to win states at some point," said Smigo. "I had no expectations going into that meet, and to get seventh as a freshman, I was really happy.
"Last year, I thought I could win it, but the heats kind of threw stuff off, and I just didn't have the best day either. This year, I made it my goal to win states; I didn't even think about leagues or districts, really, as a goal to win. It was more about just winning states."
Smigo was first at the Colonial League and District 11 meets this year, setting the stage for Saturday.
"There was a lot of pressure, definitely, going into this race," said Smigo. "All the articles, on MileSplit, especially, saying, 'He's the top returning runner at the 1A state championships.'
"That really put a lot of pressure on me because I knew everyone was gunning for me, and I had no one to go for, really. So I kind of had to go out and run my race, which was basically the entire time, which is how I enjoy running. So there was definitely a lot of pressure, and all of that just disappeared the second the race started and it was just about running my race."
And that's exactly what Smigo did.
"If you want to accomplish something, just put your heart to it, don't stop giving up," said Smigo, "because once you give up, there's no way you'll be able to do it."
Mitchell Campbell gave the Pirates two state medalists with a 17th place finish (17:28.1) in the Class 1A race. Minersville's Landon Boyle (19th, 17:29.3) and Alexander Hume (21st, 17:29.5) also medaled in the 1A race.
Notre Dame Green Pond first with 117 points ahead of Mohawk (160), Montrose (161) and Marion Center (165). The Crusaders had four runners in the top 50. Lauren Bower led the way in 43rd (21:29.5), followed by Sarah Sidoro (45th, 21:32.1), Olivia Schweiter (46th, 21:33.3) and Katherine Koones (48th, 21:33.7).
Serena Azzalina (95th, 22:33.0), Catherine Mahoney (183rd, 24:30.3) and Raegan Cooper (192nd, 24:50.1) rounded out the NDGP contingent.
In addition to winning the District 11 Class 1A title last week, the Crusaders were second at the Colonial League meet prior to that.
In the Class 3A boys' race, Freedom's Alex Heidemann medaled with a 10th place finish in 16:25.7. Northwestern's Matthew Santana ran to a 12th place finish with a time of 16:53.8 in the Class 2A race to earn his first state medal.
"It feels good," said Santana. "For some reason, I always do a lot better in Hershey; it's probably one of my favorite courses.
"I just wanted to put it all out there to see what our team could do, and hopefully we'd get a top spot. We came up short today, but that's all right."
After claiming a Colonial League championship and third straight District 11 title, the Tigers, who went 24-0 this season, were third in the team standings.
Emmaus junior Hailey Reinhard placed 20th in the 3A race with a time of 19:16.9 to earn a medal.
"It's amazing. It's a great feeling," said Reinhard, who won the District 11 3A title last week. "Going into today, I didn't know what would happen, but it's awesome.
"Coming into today, I didn't really have a strategy, I didn't know what would happen. So I just kind of went out and had fun. I just wanted to beat my freshman year time, so that was pretty nice to do."